Natural-History-Conservation.com
The conservation of cased taxidermy specimens for the Russell-Cotes Museum & Art Gallery in Bournemouth.
This project entailed the conservation of about 120 cased taxidermy specimens. This museum is best known for its celebrated collection of high Victorian and pre-Raphaelite paintings, but it also possesses many natural history specimens which had been in storage for many years and were clearly showing signs of deterioration. These specimens have now been stabilised and have been moved to an improved storage area.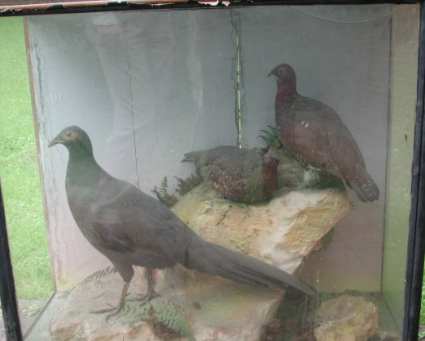 This case of pheasants is just one example that needed repair. The case back had split through exposure to low relative humidity - which in turn allowed ingress of dust and insect pests. These pictures show the condition of the cased specimens before and after remedial and preventive conservation treatment, and preparation for display.
Simon cleaning a Kakapo.
For more details about what we can do for you, or for a quote, please contact:
enquiries@natural-history-conservation.com
We are members of the United Kingdom Institute for Conservation of Historic and Artistic Works