Natural-History-Conservation.com
Repairing and installing an articulated Pteranodon skeleton, hanging from the ceiling.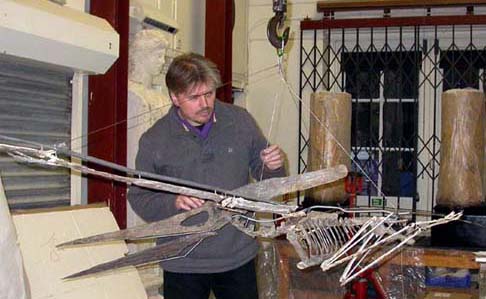 This articulated Pteranodon skeleton used to hang from the ceiling in a museum but was sold at auction recently. The purchaser wanted to install it in a private residence but it arrived in sections in boxes with no instructions or diagrams. Also, a few bones were broken and required repair.
Nigel Larkin was contracted to assess the material, undertake repairs and install the specimen, hanging it from the ceiling in a large room. The broken coracoid was difficult to repair as it was so thin and fragile but suitably strong yet reversible techniques were used. The sclerotic ring was secured into the eye socket and a few other repairs and touching-up jobs were undertaken. It was relatively straightforward to figure out how the ten separate portions of the skeleton joined together in a dry run with the complete skeleton hanging just a few feet off the floor. Then the specimen had to be hung from the ceiling. Some adjustments were made to the wires from which the armature hung, and it was orientated into the desired position. The whole specimen was extremely delicate, consisting of thin fragile pterosaur bone and thin fragile modelling compound in about equal measures, hanging from a lightweight metal frame. Although the body is less than two metres long, the total wingspan is over six metres, which canít be appreciated from these photos.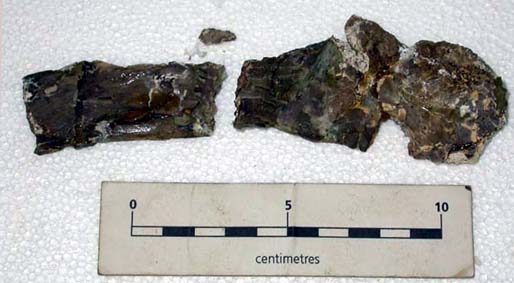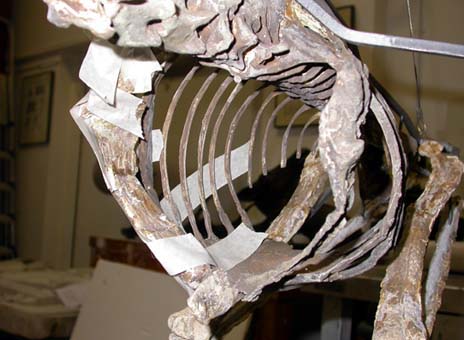 The broken coracoid as found in the box (left), and taped-up whilst the conservation adhesive sets (right). Top right: the specimen put together during the 'dry run' to figure out how it articulated.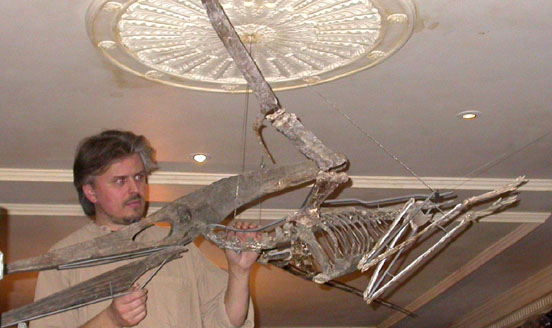 The specimen during and after installation.


For more details about what we can do for you, or for a quote, please contact:
enquiries@natural-history-conservation.com
We are members of the United Kingdom Institute for Conservation of Historic and Artistic Works