Natural-History-Conservation.com
<![if !vml]>
<![endif]>    Conservation specialist for a five-month long Middle Palaeolithic mammoth excavation in Norfolk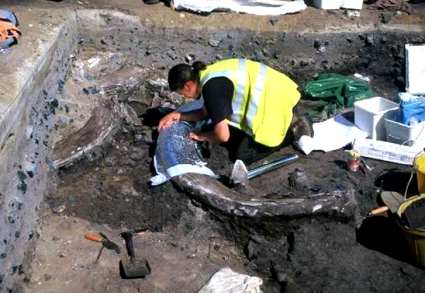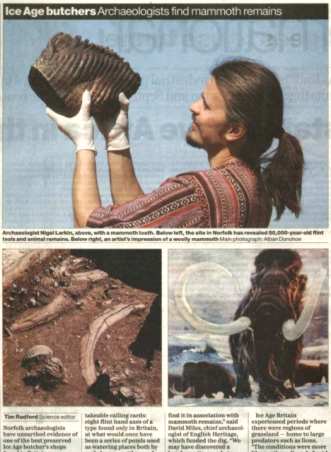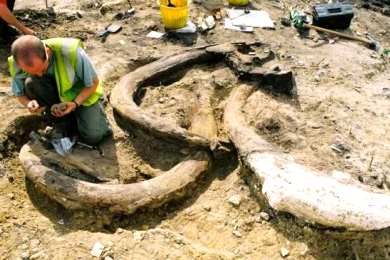 During the summer of 2002 Nigel Larkin was the palaeontological conservator looking after the finds at this internationaly important excavation. This site is in Thetford Forest, Norfolk, and represents the most important Neanderthal site in the UK by far. Nigel was involved in the initial discovery of the site, finding the first handaxe in an organic deposit in a working gravel quarry. Ultimately, over forty Mousterian handaxes and several hundred flakes from their manufacture were found in-situ amongst the remains of woolly rhino, reindeer, brown bear and up to a dozen woolly mammoths. Nigel was reposnsible for giving conservation advice on-site and for excavating, jacketing, and lifting the more fragile and problematic bones. This entailed some consolidation of specimens in-situ, and creating plaster jackets reinforced with splints (inluding four large mammoth tusks). At the end of the five-month excavation he provided a conservation report detailing the remedial conservation and storage needs of all the faunal remains - over 5,000 specimens!
This excavation was funded by the Aggregates Levy Sustainability Fund (administered by English Heritage), was organised and undertaken by the Norfolk Archaeology Unit and the extremely co-operative quarry operators were May Gurney.
If you would like to know more about this excavation, please visit the Norfolk Museums and Archaeology Service website.
For more details about what we can do for you, or for a quote, please contact:
enquiries@natural-history-conservation.com
We are members of the United Kingdom Institute for Conservation of Historic and Artistic Works, and committee members of the Natural Sciences Conservation Group.