Natural-History-Conservation.com
Nigel Larkin's work on television and on radio
Nigel Larkin has worked with Bernard Cribbins, Jonny Vaughn, Nigel Marven, Tony Robinson, Bryan McNerney, Phil Harding, Helen Geake, Bill Oddie, Adam Hart-Davies, Simon King, Chris Packham, Alice Roberts, Aubrey Manning, Jessica Holm and Hermione Cockburn on such TV programs as Moviewatch, Coast, Fossil Detectives, The Natural History of Britain, Springwatch Special, Live From Dinosaur Island, Fishing For History, Prehistoric Park, What Prehistory Did For Us, The Museum of Life and Time Team Specials and he has presented various episodes of 'Inside Out' in the Eastern Region. He has also worked on various BBC Radio Four programs such as Fascinating Deaths with Jessica Holm, Unearthing Mysteries with Aubrey Manning, Making History, Open Country and the Prehistoric Handbook amongst others, plus America's National Public Radio (NPR) and has been interviewed on local radio stations numerous times. For further details see below.
In the course of his work he has also had the pleasure of meeting: Princess Diana, Princes William & Harry, David Attenborough, Jeff Goldblum and Ray Harryhausen amongst others.

Television work, in approximate chronological order: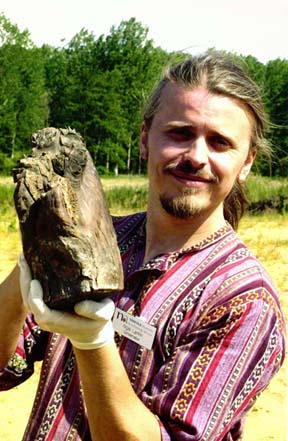 1994: 'Def II', a BBC2 programme about stereotyping 'scientists'.

1990-1995: Various documentaries and news reports when working at the Natural History Museum, London.

1990 to the present: Various interviews for local news stories in London, York, East Anglia etc.

1993: Moviewatch (Channel 4), reviewing the first Jurassic Park film, in 1993. See below!

Moviewatch Jurassic Park special (1993) part 1:
Moviewatch Jurassic Park special (1993) part 2:

1997: National Geographic Neanderthals programme.

1998: BBC and the The Open University's 'Lost Worlds'

2000: Made props (including a full-size articulating Neanderthal skeleton) for Wall to Wall TV's ' Neanderthal' documentary.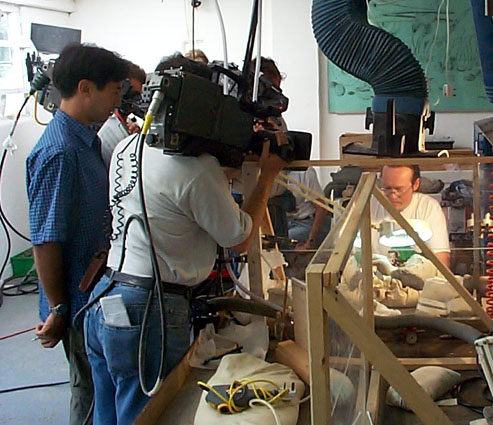 2001: BBC's Live From Dinosaur Island. "Sunday 10 June 2001 saw the start of a new television series on BBC2 - Live From Dinosaur Island, a live broadcast of Britain's biggest dinosaur hunt. In 6 days, the palaeontological team hunted for at least five different species of dinosaur in six different sites on the South-West coast of the Island. The programmes were 60 minutes each, being broadcast on Sunday, Monday, Wednesday and Friday, with an 'omnibus' edition on Sunday. It was also 'narrowcast' live on the web at the BBC's dinosaur site". As well as running the preparation and conservation lab to clean material coming in from the six excavation sites (he supplied all the equipment, materials and volunteers for this, as well as organising elements of the excavations), he also presented live to camera in each episode.
See: https://www.imdb.com/title/tt0287862/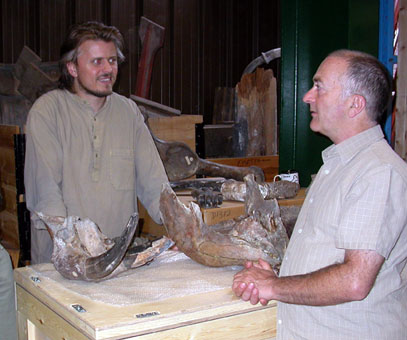 2003, January 13th: Presented a nine minute film which looked at some of the exciting prehistoric finds that had been unearthed in Norfolk over the previous few years, for the BBC's Eastern region's Inside Out series.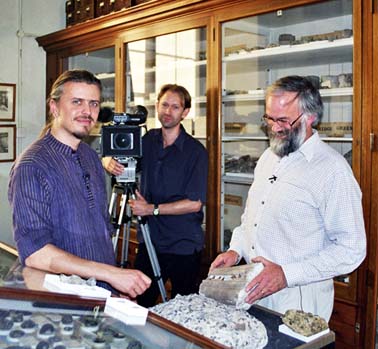 2004: An advisor for the eastern region for sections of the BBCs Natural History of Britain series, recommending places to film and specialists to talk to etc. Also, he appeared in programme 3 (aired in 2005).

2004, Autumn: Presented a nine minute film about pathologically deformed bones found in the grounds of Gressenhall Workhouse Museum, for the BBC's Eastern Region's Inside Out series.

2003, June 2nd: Presented a nine minute film exploring the history of the coprolite mining industry in East Anglia, for BBC's Eastern Region's Inside Out series.

2005: Involved in the filming of a couple of sites in Norfolk (Lynford and Happisburgh) relating to the early occupation of the region by Neanderthals and H. heidlebergensis for the Adam Hart-Davies series "What the Prehistory Did For Us"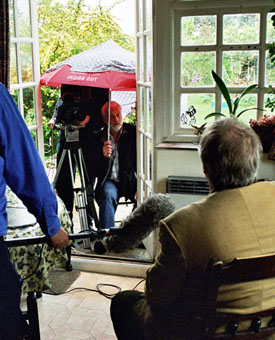 2005: Filmed with Alice Roberts for an episode of 'Coast', relating to mammoths and other fossils now found under the North Sea.

2005: Filmed with Nigel Marven about mammoths for Impossible Production's 'Prehistoric Park' (aired in 2006).

2006: Presented Imago Productions' 'Fishing for History', shown on BBC1 on August 4th.
See: http://www.edp24.co.uk/news/prehistoric-bone-hunter-1-690334

2010: Interviewed on fieldwork for 'The Museum of Life', the BBCs documentary series about the Natural History Museum in London.

2007/8: An advisor for the eastern region for sections of the 'Fossil Detectives' series, and interviewed at length in one episode about the West Runton Mammoth.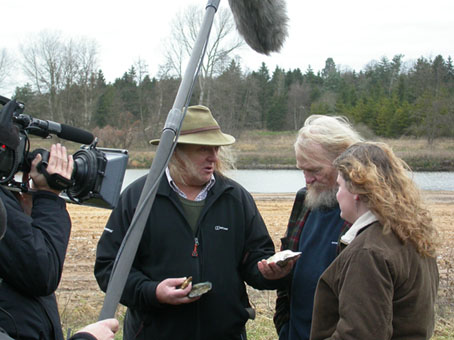 2007: Filmed with Tony Robinson and Phil Harding for a Time Team Special 'Britains Drowned World' about the Holocene sea level rise and the flooding of Doggerland. First aired on 24th April 2007.

2007: Made a replica of an ichthyosaur skeleton for filming 'Ballet Shoes' for the BBC.

2008: Made some props (Venus figures, pierced shells) for Alice Roberts' series 'The Incredible Human Journey' (aired in 2009)


2011: Springwatch Christmas Special: Interviwed by Chris Packham about coprolites (fossil droppings).

2014: Interviewed whilst conserving giant deer skulls and antlers at a National Trust property in Northern Ireland for 'Mount Stewart Restoration' (aired in Ireland in 2015).

2017: February 15th: Interviewed for a report on 'Midlands Today' regarding the restoration work on the geology gallery at the National Trust property Biddulph Grange.

2017: February 28th: Interviwed for 'Secrets of the National Trust' (Channel 5) regarding the restoration work on the geology gallery at Biddulph Grange.




Radio programmes, in approximate chronological order:



1995 to the present: various live interviews on local radio, particularly Radio Norfolk and Radio Suffolk.

June 2004 (repeated in 2006), Radio 4: Prehistoric Manual. Mike Pitts - the editor of British Archaeology - sheds light on the lifestyles of our forebears by recording on location around Britain and in America. He brings together professional archaeologists with present day crafts people to compare ancient and modern techniques for survival. The series pits reconstruction and theories from people who are interested amateurs against the evidence gathered by archaeologists. Programme 5: The Killing Machine: What can a big game hunter today tell us about how the woolly mammoth might have been killed? An excavation in Norfolk has revealed the best site for mammoth remains in Britain. The archaeologist Bill Boismier and the geologist Nigel Larkin discuss their findings and Mike Pitts also canvasses the views of the owner of a South London gun company Paul Roberts.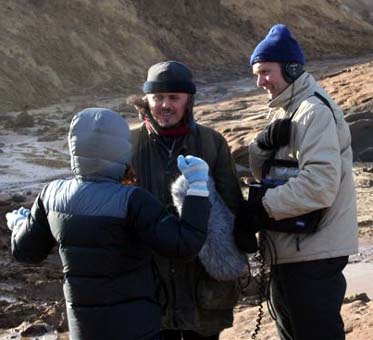 Tuesday 11th of April 2006, Radio 4: 'Fascinating Deaths' – an update on research into the life and death of the West Runton Elephant: on Radio Four. In the first of a series of programmes called "Fascinating Deaths', Jessica Holm turns detective to investigate an ancient but mysterious incident preserved in the fossil record. She learns about the fascinating life and death of the West Runton Elephant, a mammoth that came to a sticky end in Norfolk 700,000 years ago. He was in his prime at forty-odd years old and stood four and a half metres tall, weighing ten tons - twice the weight of a modern male African elephant. So why did he meet a premature end?

3rd April2007, Radio 4: Making History' about the fossils from the Forest Bed at Happisburgh, Norfolk.

July 2006, Radio 4: Open Country about the West Runton Mammoth, the ancient archaeological site of Happisburgh, 'Seahenge'(the Bronze Age timber circle at Holme), Coastal erosion and climate change.


19th December 2006, Radio 4: 'Unearthing Mysteries' with Aubrey Manning. Programme 2: Who were the first human inhabitants of Britain? Over the last few years, a group of scientists headed by Chris Stringer of the Natural History Museum have been trying to find out as part of AHOB – the Ancient Human Occupation if Britain project. Aubrey Manning visits the Norfolk coast to look at the latest evidence.

2007: USA National Public Radio for Morning Edition: an interview about 'Climate Change' and Norfolk's past landscapes.

2008: Radio Scotland's programme 'Darwin's Garden'.

23rd September 2013: Radio Cambridgeshire's Breakfast Show regarding the dismantling and conservation of the 70-ft long Finback Whale skeleton.



Nigel has also been interviewed many times by various newsprint media, including:

The Eastern Daily Press, North Norfolk News, Dorset Echo, Cambridgeshire News, The Independent, The Guardian and The Times. See below for a few examples, or go to this page for larger versions of the cuttings: http://www.natural-history-conservation.com/presscuttings.htm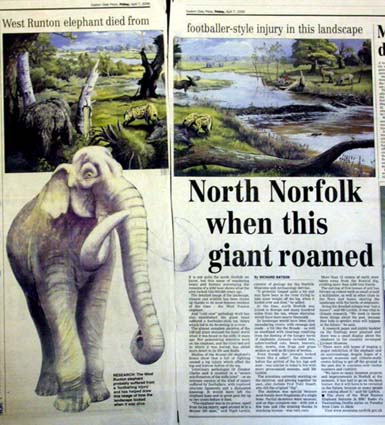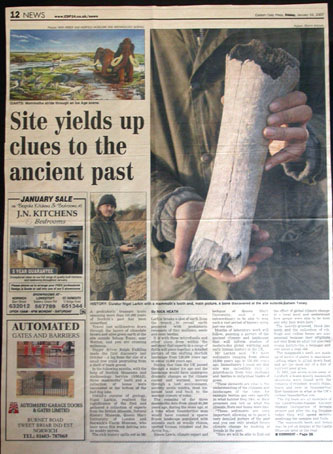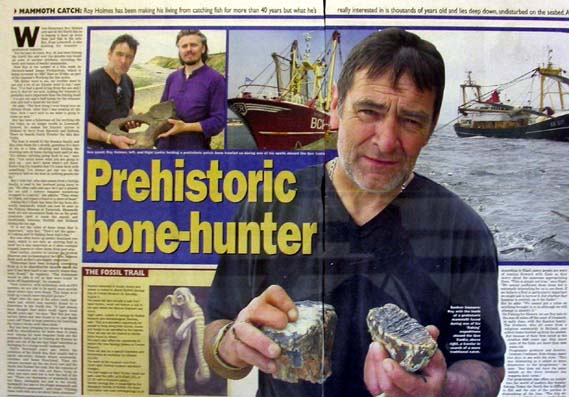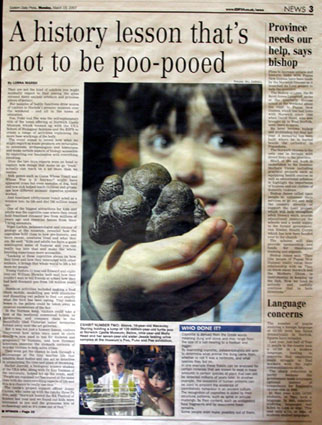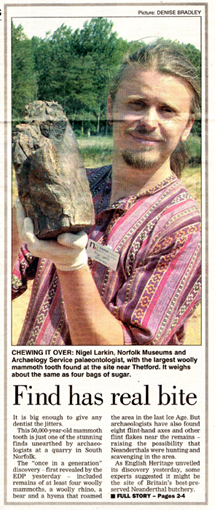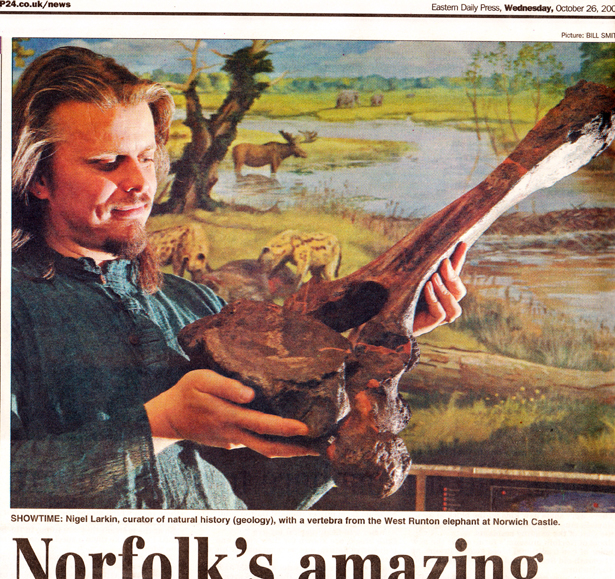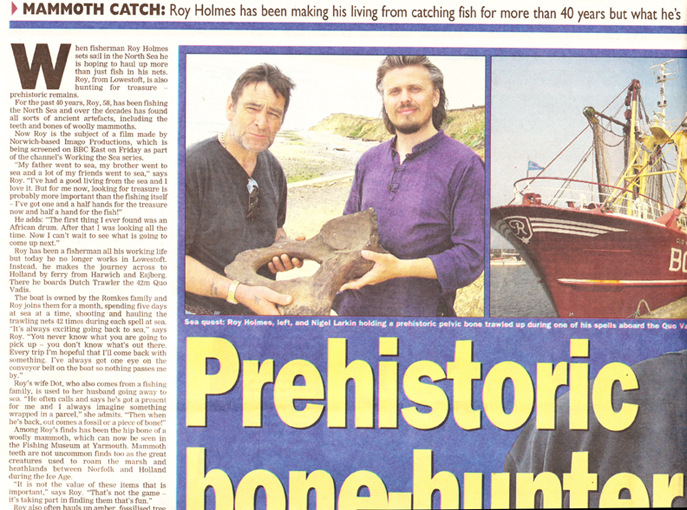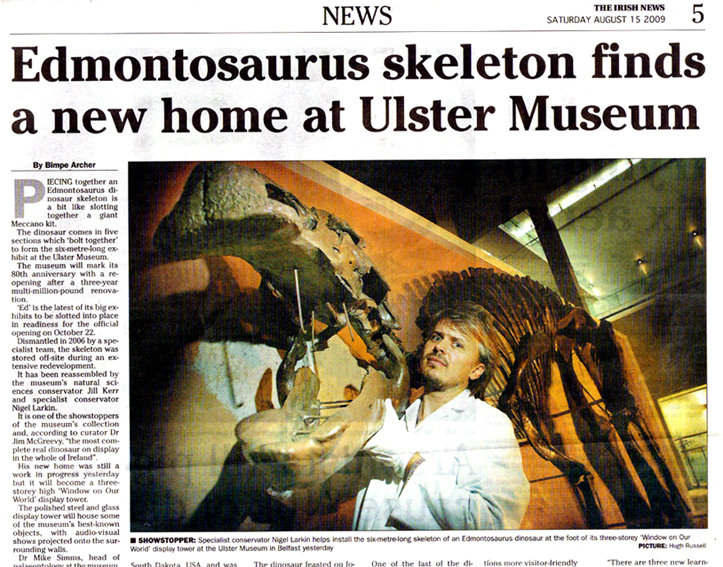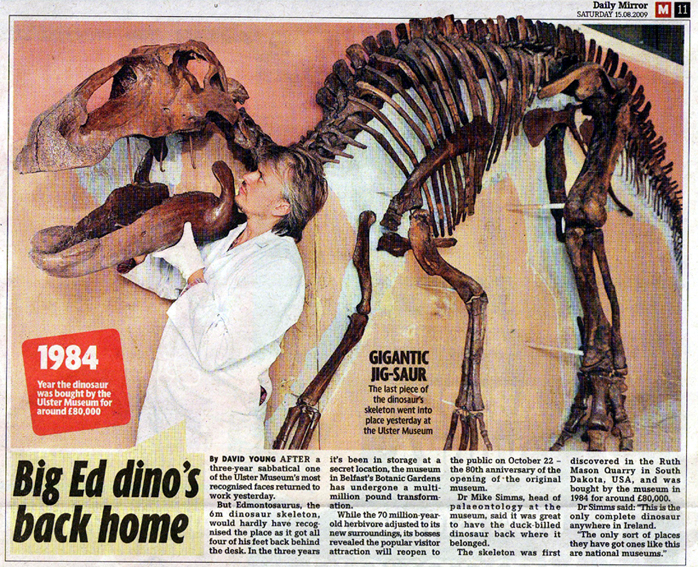 For more details about what we can do for you, or for a quote, please contact:
enquiries@natural-history-conservation.com
We are members of the United Kingdom Institute for Conservation of Historic and Artistic Works