Natural-History-Conservation.com
Conserving taxidermy specimens for Ludlow Museum Resource Centre.
This specimen of a Great Auk (left) is a typical re-construct undertaken by taxidermist firms such as Rowland Ward of Piccadilly, London, in the early 1900s. They were commonly made from seabird feathers and body parts, typically razorbills and guillemots. This one is slightly different in that it has some bird skin across the back and chest/abdominal areas, draped across a mannequin, lined with fibre and hessian. This example may have been made by Henry Shaw who was a local taxidermist at Shrewsbury. The neck nape had been severely hit by carpet beetle larvae and was largely fragmented, requiring much rebuilding from detached feathers and stabilising.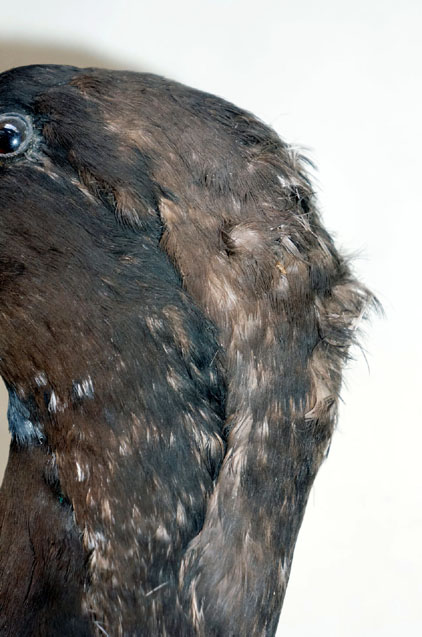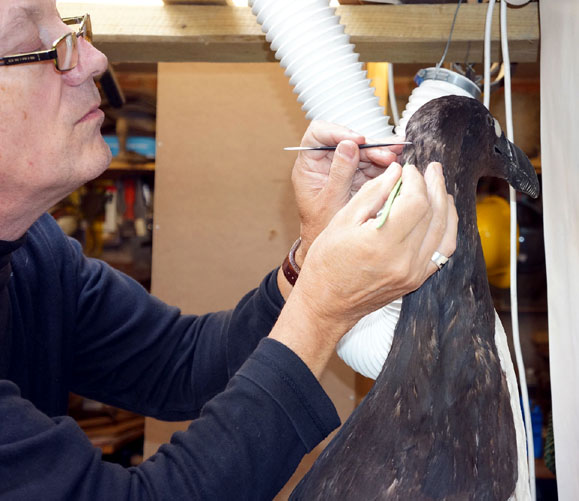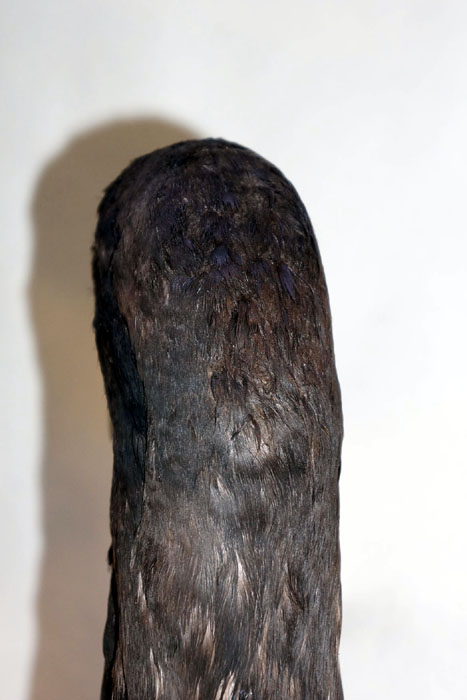 Above left: the damaged nape of the neck. Above middle: Simon Moore undertaking repairs to this area. Above right: the repaired nape area.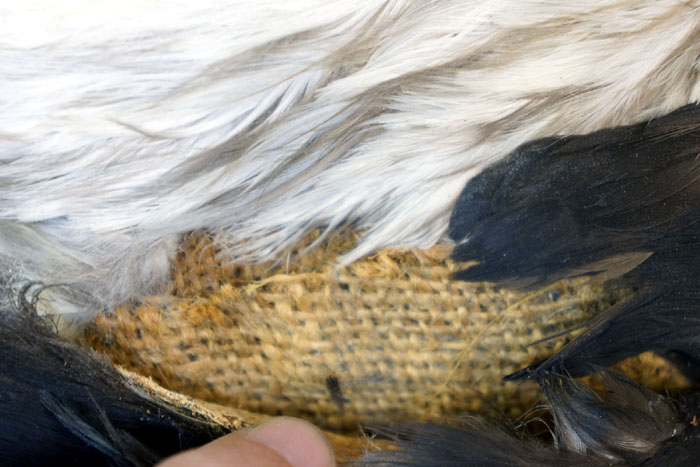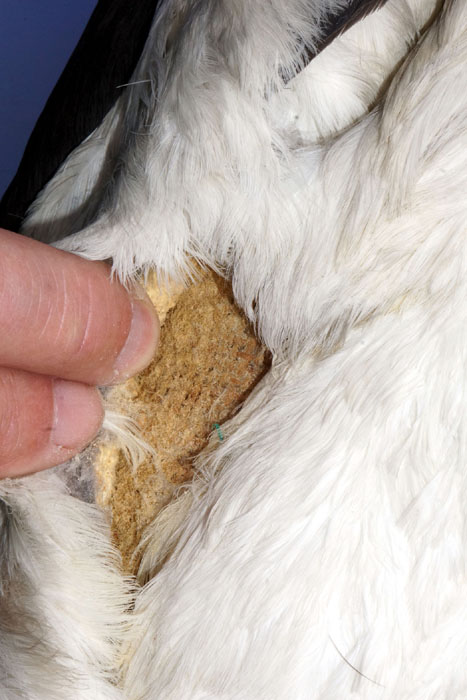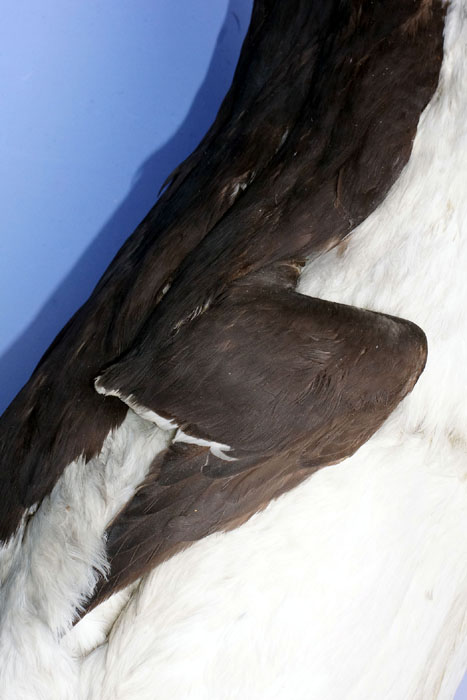 Above: the damaged areas under the wings along the border of dark and white plumage had peeled back where the old adhesive has lost its tack and was revealing the hemp fibre layer under a retainer of hessian. The seabird skin with the white plumage had been attached as several skins rather than the more laborious method of building it feather by feather but this has resulted in several transverse bulges like ribs to the white plumage. These 'ribs' were steamed and brushed so that they were less noticeable. The bird is due to form part of a new display at Ludlow in the not-too-distant-future.


Repairs were undertaken to a large pike specimen mounted in a typical late 1800s bow-fronted case. One eye was falling out as the matrix behind it had cracked and de-stabilised and the conservation was undertaken just in time as the whole area broke up into fragments and had to be re-built: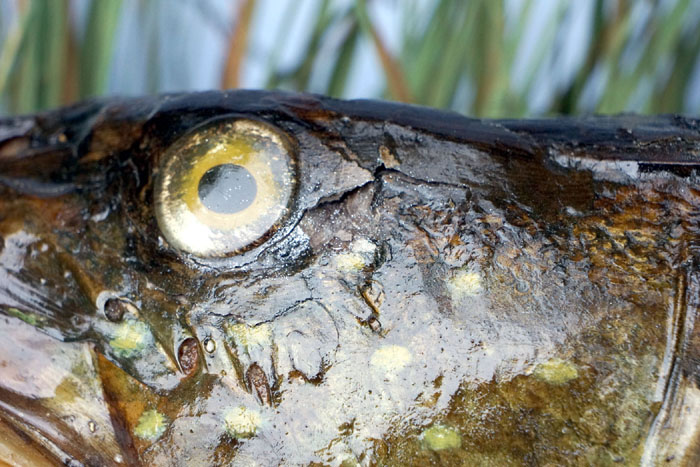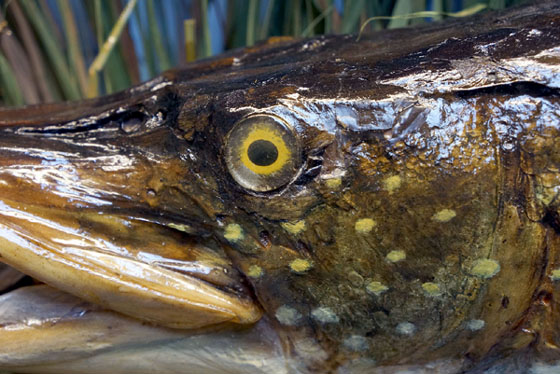 Above: left, the area behind and around the glass eye is severely craked. Middle, the filler behind the eye is exposed and prepared for re-adhesion of the pike skin. Right,the repaired eye area.

The upper tail fluke had split and required conservation. A strip of fine Gampi tissue was adhered along the back of the split to brace it and prevent it from becoming any longer.
Below: left, the split; middle, repair in progress; right the conservation work complete.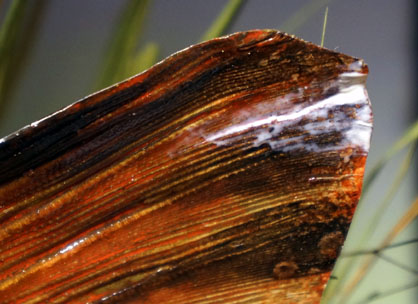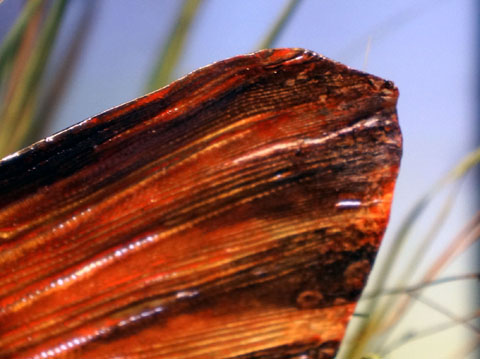 For more details about what we can do for you, or for a quote, please contact:
enquiries@natural-history-conservation.com
We are members of the United Kingdom Institute for Conservation of Historic and Artistic Works