Natural-History-Conservation.com
Southfleet Road elephant site specimens: conservation, cleaning and preparation
Over fifty Pleistocene specimens excavated from the Southfleet Road 'Elephant Site' in Kent required cleaning, conservation and preparation so that they could be identified, photographed and written-up for the report (by Oxford Archaeology, Simon Parfitt and Francis Wenban-Smith). Two examples are below. Some bones were in large rigid plaster jackets made on site during the excavation to protect the specimen and these required 'dejacketing'. Smaller specimens were wrapped in tissue paper and required curating in small archival card trays and sealable bags after cleaning, preparation and conservation.

This shows a specimen (a mandible) still in its plaster jacket (left) and after preparation (right).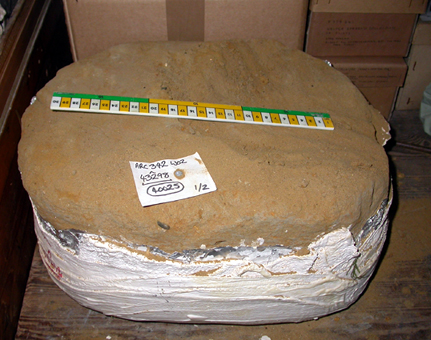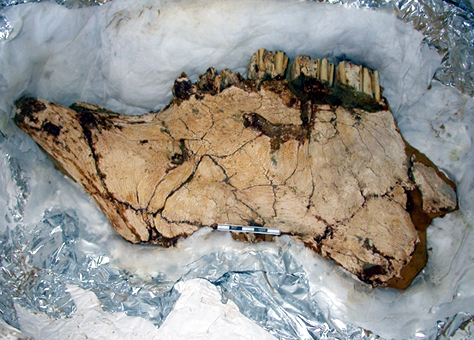 This extremely crumbly and friable antler (below) was heavily consolidated during the excavation, along with the clay it was embedded in then it was lifted as one block (below left). As the specimen was shattered and had no mechanical strength or integrity, it was prepared enough to allow identification but was then left sitting in the clay block, to prevent unnecessary damage (below right). Some plaster of paris had to be added to provide the specimen with additional strength, and a permanent base was made to transport and store the specimen in (made of inert Plastazote foam and wood).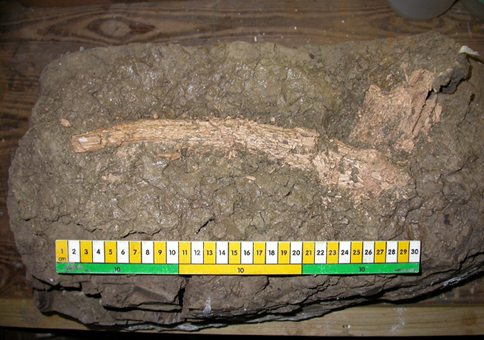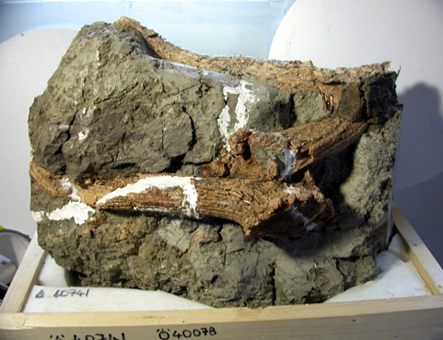 For more details about what we can do for you, or for a quote, please contact:
enquiries@natural-history-conservation.com
We are members of the United Kingdom Institute for Conservation of Historic and Artistic Works