Natural-History-Conservation.com

Genuine unsolicited comments from clients about projects recently undertaken by us:

April 2017
'The museums team are very much looking forward to having your support - you are much admired for your knowledge and skill'.
Thalia, Royal College of Surgeons, London.

April 2017
'The [replica] teeth were amazing, thank you so much. They went down a treat with our visitors and really added to the day's event'.
Debs, Bristol Museum and art Gallery.

Regarding Simon Moore's renowned four-day fluid preservation course that took place in April 2017:
Anna: 'Many thanks for the missing notes, group photos and certificate, and for leading such an excellent workshop. I hope I can do the fluid preservation course in the future as well!'
Kate: 'Many thanks Simon for another fabulous course. I think I may have found my calling in conservation! It now remains for me to convince the people of Ireland to have their taxidermy conserved instead of skipped!

March 2017
'...many thanks for the quotes and information -which is a great help and greatly appreciated!'
Jon, The Lapworth Museum of Geology, University of Birmingham.

March 2017
'Thank you for this. An excellent report with good action points for us.'
Roger, Whitby Museum.

March 2017
'Thank you so much for all the info, you're a star!'
Katy, Scarborough Museum and Art Gallery.

December 2016
Upon the delivery of a painted cast of a 4.5m long plesioaur skeleton for display: 'It looks absolutely fantastic!'
Jon Radley, Warwick Museum.

Regarding Simon Moore's renowned four-day fluid preservation course that took place at Reading University, hosted by the Cole Museum, from the 12th to 15th of December 2016:
Kate, Hong Kong: 'Dear Mr. Moore, Thank you very much! Everything is perfect! I had a wonderful time from your course and definitely learnt a lot from you! I am very interested in taking more of your courses, so please let me know your next course when it comes up so I can book my journey in advance! Thank you again! All the best! Best regards'.
Ruth, Cambridge, UK: 'It was a fantastic course and I feel much more confident tackling the conservation of our display specimens now'.
Kate: 'Thank you again for delivering such an inspiring course.'

September 2016
'...once again, a HUGE THANKS for your amazing work on this specimen. You're the best--really. And hopefully we can get you to prepare some more fossils.
Dr Stephen Brusatte, School of GeoSciences, University of Edinburgh.

August 2016
'Huge thanks to Simon Moore for putting up with all the newbies to wet specimen conservation at the University of Dundee using specimens from the D'Arcy Thompson Zoology Museum! The 4 day training course has taught us a huge amount about our specimens and boosted the confidence of staff and volunteers at the university and other institutions around Scotland.'
Hope Busak.

July 2016
'...thanks very much doing for an excellent job and delivering it so quickly for us. We're very happy with the conservation work and also the very nice and unobtrusive stand you've made.
Robin Jackson, Senior Project Manager, Worcestershire Archaeology.

June 2016
'Many thanks for your great work on this project and hope to see you again soon'.
Caroline Buttler, National Museum Wales

April 2016
'Thanks, this is perfect... I'm really happy with the conserved tusk and the bespoke stand is smashing.'
Adam Smith, Nottingham Natural History Museum.

April 2016
'Hi Nigel, Thank you so much for getting this to us... As ever, you are amazing'
Debs Hutchison, Bristol City Museum.

February 2016
'It was such an interesting day yesterday. Thank you for your time and sharing you enthusiasm so generously.'
Ros Westwood, Buxton Museum.

On the Fluid preservation course delivered in December 2015:
'Thanks so much! I enjoyed this course very much. I learned a lot and am going back home so inspired'. Nathalie
'Thank you very much for the documents and photos; it was a great course and we learned a lot of skills. I also want to thank you for the patience you took for all of us'. John.

November 2015
On a large woolly mammoth skull recently conserved and prepared for display: '...your mammoth skull from La Cotte de St Brelade looked magnificent in the exhibition at Jersey Museum'.
Peter Hoare, Geologist.

November 2015
On delivering a conserved ichthyosaur: 'Very pleased with the Ichthyosaur; a great weight off my mind... it looks lovely, amazing... its absolutely fabulous.'
Sarah Finney, Sedgwick Museum of Earth Sciences, University of Cambridge.

October 2015
'Here's one of the La Cotte mammoth skulls. Spectacularly remounted by @MrIchthyosaurus (Nigel Larkin) #IceAgeIsland https://twitter.com/MatthewPope/status/658257945105408002/photo/1
@MatthewPope (Dr Matt Pope), Ice Age Island project.

October 2015
'@MrIchthyosaurus: Excellent fossil preparation training last week Nigel Larkin. Getting down to bare bones! :)'
Leedsichthys sp. @BigJurassicFish

October 2015
'The training was excellent thank you.'
Glenys Wass, Collections Manager, Peterborough Museum.

April 2015:
'Hi Nigel, This is brilliant, thank you so much. I'll forward to the relevant people and we'll be in touch about the date in May. Thanks.'
Liesl Barber, Conservator, Midlands Hardwick Consultancy Office.

March 2015:
'Dear Nigel I have purchased a magnificent large replica black rhino horn from you and was, and still am, deeply impressed with the quality of your product....'
Stephen, London.

February 2015:
'Guys... I'm speechless. I asked for help and boy did I get it. I'm trying to digest everything…. I'm going to research all the info you have supplied over the coming weeks. I'm gobsmacked. Thank you both.'
Darren.

January 2015:
'Thank you very much Nigel. It arrived safely, solidly packed, in perfect condition and what a remarkable reproduction. Thank you very much once again.'
Stephen, North Chingford, London.

October 2014:
'...thank you for the excellent job that you managed to do on the Giant Deer antlers. They now look magnificent! We are absolutely delighted with all the restoration work you carried out on them as well as with the other antler sets. I am really looking forward to seeing them all up and mounted on the walls in the house…'
The Countess of Caledon, Ireland.

August 2014:
'I was recently "thumbing" through abstracts on Google scholar and came across yours on the conservation of the West Runton mammoth (Literally a 'mammoth task': the conservation, preparation and curation of the West Runton Mammoth skeleton (http://www.sciencedirect.com/science/article/pii/S104061821000265X). I was hoping that you had a pdf version of the paper, and if so, would be willing to send me a copy. I intend to use it as an educational tool for future interns on site, as a touchstone for comparison of practices for mammoth conservation across the board, and make it standard reading for those interns.'
Justin Wilkins, In-situ Bonebed Curator, The Mammoth Site of Hot Springs, South Dakota, USA.

July 2014:
(re. installing the cleaned, consolidated and rebuilt whalebone arch) 'Amazing. I'm really impressed. They are standing perfectly. It's as if they were always there!'
Kevin O'Donnell, Cardigan Castle, Ceredigion, Wales.

June 2014:
'Just wanted to say that I really enjoyed the Moving Natural History Collections course - it will be really useful for the Saffron Walden Museum moves. So thanks to you and your team'.
Sarah Kenyon, Natural Sciences Officer, Saffron Walden Museum.

May 2014:
'Your report is great - thanks. Neil and I have both welcomed your expertise in helping us address the condition of this important collection. We accept all the recommendations and will now present it to our collections team.'
Olga Finch, Curator of Archaeology, Jersey Heritage.

April 2014:
'It is wonderful the bears had a loving wash and blow dry and also the tiger repair is excellent – thank you!'
Hugh Crossley (Lord Somerleyton).

April 2014:
'We're really delighted to have you working on this, it makes all the difference to see real enthusiasm for a project and the ideas/feedback raised so far are just what we hoped for'.
Francoise Jackson, Collections Officer, Abingdon County Hall Museum, Oxfordshire.

April 2014:
'Many thanks for your reports and links to various funding possibilities; it was an extremely valuable experience from my point of view.... Once again, many thanks for your time and expertise'.
Tonia, Almonry Heritage and Tourist Information Centre, Evesham.

Feedback re the Fluid Preservation course in Melbourne, Australia, March 2014:
I really enjoyed the course, and I have already applied some of what I learnt at work.
- Megan.
- I thoroughly enjoyed myself and learnt a huge amount. There has been a lot of interest in my workplace regarding some of the things learned. I foresee some changes ahead!
Emma.
- Many thanks for such a brilliant few days on the course.
Tina.
- Thanks very much, Simon. I did learn a lot and raring to put what I learnt into practice.
Alayne.
- The course was fantastic and will prove very useful! Thanks again.
Michael.
- I enjoyed the course. A great learning experience. So much in so little time!
Chris.

February 2014:
'Hi Nigel. I saw the specimen today in the store, what a lovely result ! Thank you, it looks great and I'm sure Dave will be very pleased when he sees it.'
Man-Yee Lui, Norfolk Museums and Archaeology Service.

January 2014:
'Hi Nigel, I don't know which is more impressive, your mega fast response or the quality and depth of your advice. The products you recommend sound perfect and are something I've never heard of before. Many many thanks'
Mark Smith.

January 2014:
'Mould all gone and the antlers have dried out nicely with no obvious cracking or other damage occurring. Thanks very much for your quick response and advice!'
Emily Watts, House Steward, Knole.

Re the Fluid Preservation course in Edinburgh, December 2013. Once again the course proved popular, with many participants coming from Canada, Poland, Germany and Italy besides some from the UK. Some comments we've had:
'I'd just like to say I really enjoyed your course, it was so nice to learn something that the uni doesn't cover.'
'Thank you again for the wonderful course and now for the certificate and photos'.
'The course was just perfect and I've learnt a lot of interesting and useful things.'
'Thank you for an amazing course. I learnt an awful lot and will be putting it all in to good practice after Christmas!'

October 2013:
'Many thanks for providing this useful information for our volunteers and just to let you know that the feedback from volunteers was extremely positive and enthusiastic about the training and they are all now very eager to start packing! Thanks again for such an informative training session'.
Jane Harrison, the Lapworth Museum of Geology, University of Birmingham.

August 2013:
'The rhino horns arrived today. Thanks - they look great!'
Dave Naish, Education Manager, Bristol Zoo Gardens.

June 2013:
'Slightly daunted by the scale of tasks to do and the amount of time and specialist work it needs but your prioritising them certainly helps! Thanks for what I think is a very honest and practical report - just what we needed'.
Esther, Bangor Museums.

June 2013:
We had some really nice feedback from delegates on the fluid-preserved specimen course Simon Moore gave in London in June 2013. Here are a few examples:

- 'Thank you so much, it was amazing! I've signed up with the O.U. to study towards a Natural Sciences degree because of the course. Wish me luck!'
Kirstin

- 'Thank you so much for the course. I enjoyed it immensely! And learnt so much. I am very keen to put some of it into practice.'
Sheldon.

- 'Thank you for a fun and educational week!'
Katrine

- 'Thank you so much, it was great to meet you and take part in the course'.
Pedro Viegas.

May 2013:
'The report as it stands fulfills my needs in that it is an independent expert assessment and details the packing materials required and indicates the time needed to invest in this project. More importantly it outlines the considerations in terms of requirements for the new store and the practicalities of moving a large, heavy, delicate collection from the top floor of the building to a new store. The sections on packing and decant are fantastic and provide us with guidance for the whole move, not just the NH collections. The sections on the environmental conditions required for the safe storage of natural history collections, the general pros and cons of moving to a new store, facilities required at the new stores and packing, moving and unpacking natural history collections in general are all fantastic. Thank you!'
Sophie, Colchester and Ipswich Museums.

February 2013:
'I really am so grateful to you for taking this on, and for doing such an expert job'.
Mark Wormald, Pembroke College, Cambridge University.

December 2012:
Comments about Simon Moore's Fluid Preservation Course in December 2012
'So, I've spent the week at the Horniman Museum. I have dozens of photos to look through and pages and pages of notes, so it'll be a while before I have chance to write up everything that I've learned. The course itself was fantastic, and I learned so much that I fear my head may explode'.
Claire Smith.

'Thank you for the photos and thank you for the brilliant course. I learned a huge amount, but more importantly, feel more confident with my practical abilities. I will be leaving a detailed write up and a list of future recommendations for the Powell-Cotton Museum so they will still benefit from my training. .. and I have no doubt the museum will maintain contact and continue the relationship'.
Beth Wilkey.

'The course was really good and I enjoyed it very much, learned a lot!!!'
Carolina.

'Thank you very much. I really enjoyed the course, and I learned a huge amount – I am now armed with knowledge for the future!'
Rachel Jennings.

October 2012:
'Thank you for your long and extremely helpful email about the whalebone arches! In addition to the materials you mention it has been rather good to read, because it reflects many of my own thoughts about the issue and likewise of Danish colleagues I have been talking to. Good to know from somebody with a lot of experience on the issue that there really is no magic solution to the problem'.
Trine Sørensen, Conservator of natural history, Museum of Southern Jutland, Denmark.

October 2012:
'Thank you for your support and involvement in the Fossil Roadshow . It went even better than we could have hoped. I am still receiving messages of appreciation and thanks directed at those involved. We all believe very strongly in the promotion of this project/subject area and it is great from my point of view to have your support'.
John Davies, Chief Curator, Norwich Castle Museum.

September 2012:
'Thank you for sending the report - it was fascinating, and it's very useful to have a record of the exact technique you used. I am more than satisfied with the work - the rhinos look fantastic'.
Beth Wilkey, Collections Officer, The Powell-Cotton Museum, Quex Park, Kent.

September 2012:
'It was a pleasure to meet you and we are so pleased with the work that you have done on our rhino. We have posted the images and story on to our social media pages and our followers have shown a great deal of interest in the project'.
Karen Botha, The Powell-Cotton Museum, Quex Park, Kent.

September 2012:
'I participated in Simon's fluid collection course at the Horniman in 2010 and I highly recommend it for anyone interested in fluid collections.'
John Simmons, Yale University.

'As with others, we have benefited from Simon's course. We hosted one in Dublin, which like the US means that he can't fly carrying some of the interesting chemicals and tools that are needed. But you need to get these in you museum anyway so it's a good idea to get your shopping list from Simon and stock up in advance. We included university technicians from zoology and anatomy departments to get the numbers to make the course financially viable. We also included all in our small museum staff so that even if people don't work with wet collections on a daily basis they understand fully what they are all about. I can also add my support to Simon's long experience in museums and unparalleled knowledge in his field.'
Mr Nigel T. Monaghan, National Museum of Ireland.

'I have been lucky to gain from Simon's broad expertise during the KUR-Programme and haven't met a person being that much devoted to fluid preservation, collection care and restoration of historic collection objects before. His broad practical knowledge can hardly be pressed into the few lines of a publication, and even though we didn't manage to bring Simon and his course to Germany yet, I can only encourage folks dealing with fluid collections to gain from Simon's expertise. Being a freelancer he has to take money for the course, but this is well invested money, especially regarding (historic & modern) preservation techniques. Book him, his course surely is worth every penny!'
Dirk Neumann, The Bavarian State Collection of Zoology, Munich (ZSM).

July 2012:
'Many thanks for the casts, Jenny is really pleased with them.'
Abigail, Department of Pharmacology at the University of Cambridge, regarding moulding and casting a Merino sheep skull and mandible for research.

June 2012:
'Your report is an excellent piece of work and is exactly what we needed to progress the decision regarding the whale. We will now need to spend some time considering the issues.... Thanks again for your great piece of work.'
Tony Gee, Senior Project Manager, Davis Langdon, An AECOM Company.

June 2012:
'....the replicas have arrived here safely. They look excellent! Tony and I are very pleased with them, thank you. The prominent REPLICA wording should leave thieves in little doubt that they aren't the real thing!'
Dr David Waterhouse, Norwich Castle Museum, regarding casts made of Norwich rhino horns.

May 2012:
We had some really nice feedback from delegates on the fluid-preserved specimen course Simon Moore gave in London in May 2012. Here are a few examples:

'It was a fantastic course and I really enjoyed it. Can't wait to put some of the things into practice! I'll let you know how I get on!' (Nick).

'Many thanks for a great course! I learned a huge amount and had fun too.' (Susi).

'It was an excellent course last week. Many thanks for all your hard work and for bearing with us through the teething troubles! Also, thank you for the images and the certificate… and for your message about the conservation forum. I'm very grateful for all of these.' (Subhadra).

'The course exceeded my expectations… we made a pretty good team! Thank you for making me feel at home.' (Catarina).

Upon seeing the comments above on our Facebook page, 'Herefordshire Heritage Services' wrote "I did this course at the Horniman last December and it was brilliant!"

March 2012
'The bird looks excellent & we are all very pleased with it....you packed him well, Many thanks.'
Garston Phillips, Collections Officer, Worcestershire.

March 2012
'I will try your methods, thank you so much for replying.... I am truly grateful for your willingness to help. Thank you again for your help.'
Nikki Kingsmith, Tasmania.

February 2012
'Thanks Nigel. Again, lovely useful information!.... Thanks very very much for the images and for the information!'
Gali Beiner, National Natural History Collections, The Hebrew University of Jerusalem

February 2012
'Just read your report. It is really clear, so much I didn't realise about the elephant skeletons! Thanks for the additional notes on the museum concerning the pest control and humidity/temperature recorder, this will help me loads.... Thanks also for the extensive report describing your work - this is really helpful! Again I would like to thank you very much for all your work this week'.
Dr Celine Caquineau, School of Biomedical Science, University of Edinburgh.

January 2012
'Thank you very much for your kind attention, advices and information. I will try to get recomended bibliography. Is lucky to be related with professionals as you (not everyone shares what he knows ). A grateful greeting from Spain'.
Paloma López Sebastián, Berriztapen Zerbitzua/Servicio de Restauración Arabako Foru Aldundia / Diputación Foral De Álava.

January 2012
'I really enjoyed your course. It really fuelled an interest in me to further investigate the state of many of the wet specimen collections in Swedish museums'.
Linnea Holmberg.

October 2011:
Thank you so much for doing such a lovely job with the corals and other bits and pieces - it makes such a difference to us to have some help.
Rowena Hamilton, Sheffield Museums.

July 2011:
Nigel, We are very grateful to you for being able to restore both giant deer skeletons so well and so quickly. I am sure you need a long rest! It is particularly pleasing to see the second giant deer skeleton on display as it is the first known skeleton of this species and has historical and scientific importance.
Dr Andrew Kitchener, National Museums Scotland.

May 2011:
Thank you once again for the professional, swift and efficient way in which you dismantled and removed the plesiosaur from our entrance hall.
Dr Jeff Liston, Hunterian Museum, Glasgow.

March 2011:
Thanks for all the work that you did. It is so lovely seeing the stacks of neat boxes in place of the awful old ones, and knowing that now we have a computer record of the geology that we can add to.
Ros Allwood, North Hertfordshire Museums Service.

March 2011:
I saw the restored cross for the first time this morning and was delighted with the finished result. Thank so much for you work.
Michael Scott, North Shields.

March 2011:
'...(Nigel) has cast specimens in resin for me and I must say his work has held up well and still enhance my sessions in spite of repeated handling! So I can personally and professionally recommend him to produce an accurate replica suited to your needs'.
Dorcas Sanders, Museum resource Centre, North Hertfordshire District Council.

March 2011:
'I participated in Simon's fluid preservation course at the Horniman in November 2010 and I personally encourage everyone who is interested in fluid preserved collections--particularly those of you who work with old collections--to take this workshop if you can. Simon is a terrific instructor and the Horniman facilities are excellent. You will learn a lot of very useful things. A write-up about the course is due to appear in the upcoming SPNHC Newsletter'.
John Simmons, Museologica, Pennsylvania, USA.

December 2010:
'Many thanks for this extra information, which along with the report on the collection hugely helps to answer all my key questions and is a real weight off my mind. Thank you also for the photocopies and advice on polypropylene trays'.
Isla Gladstone, York Museums Trust.

November 2010:
'Thank you for restoring the whalebone arch so beautifully. It looks magnificent'.
Dr Coates, Dorset.

September 2010:
'I've finally had a chance to look at the casts you've made for us; they really do look splendid - you've done a wonderful job'.
(Regarding painted replicas of the Berlin Archaeopteyx fossil skeleton) Alison Hopper-Bishop, Royal Albert Memorial Museum & Art Gallery, Exter.

August 2010:
'Many thanks indeed for the tusk - you've done a great job. Fantastic!'
Graham Goffey.

July 2010:
'Thank you so much for the work you have done on our small ichthyosaur. It really looks fantastic, and has had several very positive comments already. We are currently working to mount the specimen in the first case that you will see as you come into the exhibition.'
Isla Gladstone, York Museums Trust.

July 2010:
'Thanks again for all your work, it has made a real difference to our collection!'
Claire Thornton, Collections Manager, St Albans Museum Service.

July 2010:
'I am sure you understand how much I value your work and continued involvement. Thank you for continuing to support us and make your expertise available. I am really pleased with what you have achieved in the time available. Thank you once again.'
John Davies, Chief Curator at Norfolk Museums & Archaeology Service.

June 2010:
'The two days were very interesting and your information actually bought the animals to life so to speak. I always find it amazing the amount of information that can be gathered from just examining bones.'
Mrs Linda Curl, regarding work at Narborough Museum.

March 2010:
'Many thanks for your report. I have just had my first read and its exactly what I wanted and very helpful. I will have a look at the funding streams you suggested and make sure everyone has seen it to discuss it at our next collections meeting.'
Claire Thornton, Collections Manager, St Albans Museum Service.

March 2010
'Many thanks for the excellent report, and for the helpful recommendations.'
Ros Allwood, Cultural Services Manager, North Herts. Museums Service

October 2009:
'We are delighted with the Edmontosaurus and the giant deer, as regards both the high quality and efficiency of your work - AND all under budget. What more could we ask!.... The report is very thorough and useful to have. And it's great to have such a comprehensive visual record of the before-during-after conservation process. Many thanks indeed.'
Peter Crowther, Curator of Geology, Ulster Museum, National Museums of Northern Ireland.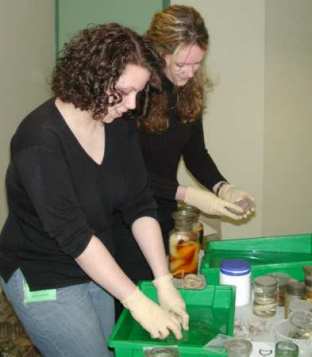 Fluid preservation courses:

'I had a really good time on the course and the confidence it has given me is priceless.' Lucie Graham (2010 Cambridge course).

'Thank you very much for an excellent course. I really enjoyed it and gained a lot from it, and I felt it was well paced.' Angela Smith (2010 Cambridge course).

'Thank you so much for a very enjoyable and informative course.' Siobhan, Mary, Claire and Phil. (Dublin, 2008).

'Thanks for a fantastic course - really well balanced and glad we had time to make mistakes while you were there!' Sophie Lenham, Colchester and Ipswich Museum Service, 2009.




For more details about what we can do for you, or for a quote, please contact:
enquiries@natural-history-conservation.com
We are members of the United Kingdom Institute for Conservation of Historic and Artistic Works