Natural-History-Conservation.com
Preparing, conserving and creating permanent storage media for Woolly Mammoth tusks and bones for Bradford University's Department of Archaeological Sciences
In 2003 Nigel undertook a project for Bradford University's Department of Archaeological Sciences' Conservation Department. Together with members of the department, he de-jacketed, conserved, repaired and cleaned two large, beautiful, but very badly shattered woolly mammoth tusks. These tusks date to the Devensian Period about 60,000 years ago and once belonged to woolly mammoths (Mammuthus primigenius). From the same site he also de-jacketed, prepared, conserved and created storage media for a large woolly mammoth mandible and some extremely fragile red deer antlers.


Each of the tusks was about six feet long, and consisted of thousands of small shattered tusk fragments encased in a solid plaster of paris and hessian scrim jacket. The plaster jackets had to be removed a small piece at a time carefully with a surgical saw, and all the fragments cleaned and glued back together. When the top side was completely cleaned free of sediment and consolidated a permanent storage support was made out of archival-quality products for the side that was currently uppermost, fitting the contours of the tusk exactly.


The tusk, this support and the remainder of the plaster field jacket on the underside then had to be turned over together very carefully over so that the conservation procedure could be repeated on the other side. Nigel also made the special foam-lined, double-skinned, wooden pallets that the tusks were finally placed on for transport and storage.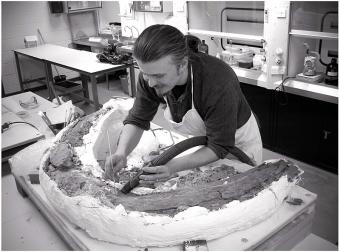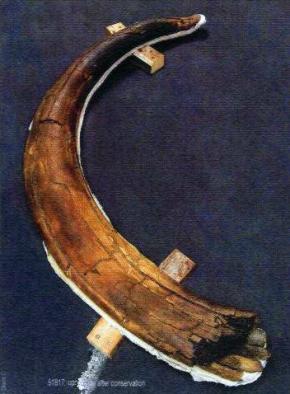 Many thanks to Diane Charlton (who also worked on these specimens) for some of these pictures.





For more details about what we can do for you, or for a quote, please contact:
enquiries@natural-history-conservation.com
We are members of the United Kingdom Institute for Conservation of Historic and Artistic Works