Natural-History-Conservation.com
Staff background
Nigel Larkin B.A.(Hons) M.Sc.
nrlarkin@easynet.co.uk
http://norfolk.academia.edu/NigelLarkin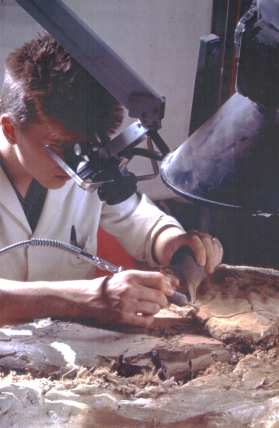 Nigel is a conservator of natural history specimens specialising in the excavation, preparation, conservation, curation, storage and display of geological, palaeontological, archaeological and osteological material. He uses his blacksmithing and welding skills to make bespoke mounts for displaying museum specimens (up to the size of Asian elephants and Fin whales!) and also undertakes the moulding of museum specimens to produce high quality casts.

Employment in museums


After completing his undergraduate degree in Environmental Sciences, Nigel worked for five years as a conservation scientist in the Palaeontology Conservation Unit of The Natural History Museum, London. The two main projects that he was contracted to work on were the conservation and redisplay of a large collection of scientifically and historically important Jurassic marine reptiles and the preparation, conservation, mounting and installation of fossil material and casts for the dinosaur gallery which opened in 1992. During this time he learnt a great deal about the conservation of natural history specimens and the care of museum collections. He also gained a Master of Science degree in Vertebrate Palaeontology at University College London, studying part-time. In general his duties and responsibilities at the NHM included: undertaking relevant preparation and remedial and preventive conservation of all types of palaeontological material; the replication of fossil and sub-fossil material in a variety of media for display and research; the installation of fossil and replica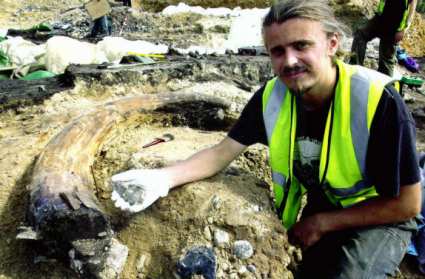 specimens into new exhibitions; responding to emergency conservation needs; and providing conservation advice to staff of the Palaeontology Department and Exhibitions Department.

After working there full time for five years his project-funded contracts came to an end, but he still occasionally works for the Natural History Museum in a freelance capacity. He has assisted the Engineering Section of the Exhibitions and Education Department in mounting and installing geological material in the Earth Galleries exhibition, assisted in installing the travelling Kokoro robotic dinosaurs and has helped to organise major palaeontological excavations abroad (as site manager) for the Natural History Museum on several occasions.

After leaving the NHM, Nigel's next major contract was to manage the West Runton Elephant Conservation Project for Norfolk Museums and Archaeology Service. This was externally financed by the Heritage Lottery Fund. He was responsible for designing and implementing the remedial and preventive conservation strategies and the curation of the West Runton Elephant and associated fauna (several hundred very important sub-fossil Pleistocene specimens). This included creating a new lab facility, managing staff and volunteers, creating temporary displays, delivering talks to the public, attracting funding, creating risk assessments, curating the material, moulding bones and casting replicas for research purposes, testing materials and publishing conservation research. Other departmental duties included: advising the Museums Service and general public on geological and palaeontological conservation and general natural history conservation; conserving and installing specimens as part of the £12million Norwich Castle Museum Redevelopment Project (HLF funded); advising on and undertaking preventive and remedial conservation of the geology collections and other natural history collections; identifying geological specimens; undertaking collections surveys; undertaking training of staff and public in conservation issues; and installing and maintaining various environmental monitoring systems.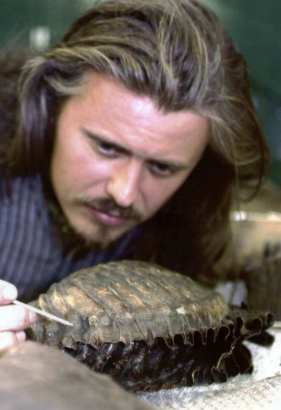 After the West Runton Elephant Conservation Project was completed, Nigel was the Curator of Geology for Norfolk Museums and Archaeology Service for several years. By then Norfolk Museums Service was the Hub museum service for the whole of the Eastern Regions. This position involved further experience in remedial conservation and preventive conservation projects, curation, documentation, conservation assessments and raising funds.

Nigel worked as a conservator and curator in national museums or regional museums services for over 20 years, and in addition undertook a variety of freelance projects in his own time during this period. Now he works in a freelance capacity full time, mostly at home in Shropshire where he has a conservation studio.

Freelance work

As well as Norfolk Museums and Archaeology Service and the Natural History Museum, Nigel has worked for the BBC and Channel4, worked in the Antarctic with the British Antarctic Survey for a season and was site manager for fieldwork in Gibraltar for a month each year for four years, excavating Neanderthal sites with The Natural History Museum.

Recently he has also undertaken conservation work for the Abu Dhabi Islands Arcaheological Survey, the Oxford Archaeological Unit, Kent County Council, The Norfolk Archaeological Unit, Bradford University's Department of Archaeological Sciences , Durham University's Department of Biological and Biomedical Sciences, Somerset Museum, Bedford Museum, Dorset County Museum, Birmingham Thinktank, the National Museums of Northern Ireland , Hancock Museum, York Museum Trust, Cambridge University Museums, The National Trust and various individuals with private collections.

He has worked as an excavator and site conservator on some internationally important excavations in recent years including: the famous Swanscombe site in Kent; Happisburgh and Pakefield, on the coasts of Norfolk and Suffolk - The oldest hominid sites in the whole of North and West Europe; a new site at Norton Subcourse shedding light on a hitherto unknown warm period in the early Pleistocene; and the very best Neanderthal site ever to have been found in the UK (at Lynford, Thetford Forest) which he discovered together with John Lord.

Nigel recently completed a part-time Masters Degree in 'Architecture: Advanced Environmental and Energy Systems' with the University of East London and the Centre for Alternative Technology. This is to enable him to provide advice to museums on how to conserve their energy with low-cost, low-tech solutions to reduce their carbon footprint and lower their energy costs. One tool he uses for assessing museum environments including analysing display areas and collection storage areas is an infra-red thermal imaging camera.

Memberships and affilations etc


Until it merged with the Biological Curators Group to form the Natural Sciences Collections Association (NatSCA), Nigel was a committee member of the Natural Sciences Conservation Group (NSCG). He is now a member of the NatSCA Conservation Committee and a member of the Geological Curators Group Committee. He is also currently a committee member of, and is a former President of, the Geological Society of Norfolk and is a fellow of the Royal Geographical Society. He is also a member of the Institute of Conservation, the Museums Association, The Society for the Preservation of Natural History Collections, the Care of Collections Forum, East Anglian Conservators' Forum, the Quaternary Research Association, Shropshire Geological Society and the Earth Science Teachers Association. He is also a member of the British Artist Blacksmiths Association and has qualifications in MIG welding. He is an 'Affiliated Researcher' at Cambridge University's Museum of Zoology and an Associate Member of the 'Ancient Human Occupation of Britain Project'.

Publications


For information about Nigel's publications - including the abstracts - visit his home pages at 'Researchgate' or at 'Academia.Edu' using these links: https://www.researchgate.net/profile/Nigel_Larkin and http://norfolk.academia.edu/NigelLarkin.
His publications are also listed here:
http://www.natural-history-conservation.com/publications.htm.


For more details about what we can do for you, or for a quote, please contact:
enquiries@natural-history-conservation.com
We are members of the United Kingdom Institute for Conservation of Historic and Artistic Works