Natural-History-Conservation.com

Natural history collection condition report for Audley End, March 2005.

General Comments
Considering their age, most of the birds are in, at least, fair condition. Most have faded slightly, some considerably and most have been affected by dust contamination resulting in plumage discolouration, dry beaks and dull eyes. Many of the specimens have been mounted by F. Butt of London whose labels are noticeable in many of the larger cases. Butt obviously used arsenic salts to treat these specimens and they should be handled with according care .

Note: F. Butt is quite difficult to trace. George Butt was the manager, then proprietor of the business started by Edwin Ward (Rowland Ward's elder brother). However, Pat Morris noted that "later cases (from Ward's) normally had pheasants posed more naturally, but even so they often have the tail tilted upwards to such an unusual degree. This not only saves space, but also creates a more balanced display in the glass case." This might explain some of the bent tails and specimens squashed against the glass!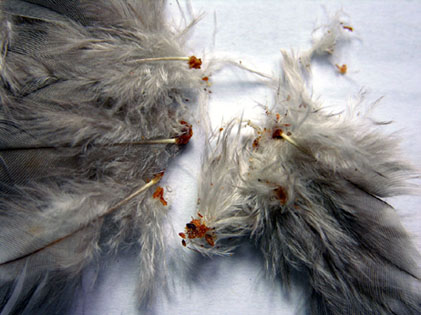 Conservation work carried out
Case 69 of saw-bills and seabirds contains a merganser to the right of the case, that has become noticeably squashed against the glass resulting in flattening of the lower back and tail plumage. Once the beads and glass had been removed, the specimen was gently moved to a more upright position so that the angle of the rump to the glass was greatly reduced. Whilst brushing out some of the surface accumulation of arsenic dust, some of the lower back feathers became detached from an area affected by 'fat burn'. The feather attachments were seen to be coated with an organic acid brown lumps of hardened and oxidised lipid (see photo.) These feathers were glued back into place using neutral pH PVA. The case seal of gummed brown paper was then renewed and the beads replaced later.

Case 67 contains a slender-billed Corella, last treated by Simon Trodd (AMSSEE) on 30.11.1990. The breast feathers appear to show signs of pest depredations but on closer inspection, no traces of pest detritus (frass, skins or shredded feather components) could be found at all and I am therefore quite sure that this specimen must have always been in this state, perhaps of inter-moult. The case seals show no signs of damage or deterioration; the tiny splits (listed on ST's report) are still present but do not penetrate the case backing from either side. No action has therefore been taken for the present.

Lower gallery: Condition report

Temperature: 10°C, Relative Humidity: 53.1%

Case No. 45 - Nightjars: stable.

Case No. 68 – Albino hedgehog (cf. from Alderney?): one or two spines detached, otherwise stable despite odd humped-back mount.

Case No. 83 – Aike: stable.

[Wall mounts] – 2 bovine heads: stable.

Case No. 43 – Whooper Swan &c. case: head armature to black duck (lower right) slightly protruding and rusted; else stable.

[Wall mount] – Moose-elk head: stable.

Case No. 69 – Saw-bills and seabirds: stable (following treatment).

Case No. 86 – Pine marten and prey: stable, some snow effect below marten's front shoulder.

Double display case of shells, minerals and plaster finials (curated by Simon Timberlake): a few are dirty, a few are fossil or sub-fossil and may be fragile. No traces of Byne's disease noted.

Fossil Elephant tusk and molars: tusk with (old) split longitudinally, some slight delamination and tiny splits to the teeth but these, again, are old damage and only slight but should be monitored.

Case No. 41 – Pet dog Schuler with rat (upper half faded): stable but white mould spotting to inside surface of glass.[Dilemma of whether to break intact seals and clean or to monitor possible growth of fungus, if it grows then it must be cleaned away, else leave alone for the present. See notes at end for details.]

Case No. 75 – Scaup with label: stable.

Case No. 56 – Otter with label: very faded, slight tail disruption.

Case No. 57 – Otter with label: very faded, else stable.

Case No. 61 – Pair of Snowy Owls and one prey item: stable.

Case No. 59 – Pair of Eagle Owls: both with quite severe grazing to feet (these can be restored) and left specimen with pest grazing to rump and tail feathers.

Case No. 52 – Large case of Australian birds: very faded to faded but stable.

Case No. 44 - Case of exotic birds: stable but faded.

Case No. 35 – Case of parrots and doves: stable.

Case No. 46 – Large case of raptors: stable.

Case No. 70 – Dome of passerines in gorse: stable.

Case No. 47 – Case of hummingbirds: dusty, dry bills, one bird's eye (top right) detached.

Case No. 72 – Dome of 2 ring ouzels – faded but stable.

Case No. 85 – Large case of birds, including frogmouth by F. Butt: stable.

Case No. 33 – Case of raptors and pheasants: some dull eyes, else stable.

Case No. 73 – Case of game-birds: stable.

Case No. 66 – Case of herons and snake: stable.

Case No. 63 – Large case of mixed birds: some slight plumage disruptions and delaminating bills (see pic. of beak delaminating).

Case No. 67 – Corella case: no apparent insect ingress, breast feathers appear to be vestigial, stable.

Case No. 65 – Five semi-albino pheasants: stable.

Case No. 32 – Roller in case: stable.

Case No. 50 – Scottish game-birds: stable.

Wall-mounted octagonal case of pine martens: stable.

Case No. 39 – Case of birds surrounding pelican: flaky paint to legs of black-winged stilt, else stable.

Case No. 62 – Woodpecker case: holes to base, else stable.

Case No. 38 – Galah and Cockatiel: stable.

Case No. 60 – Case of birds surrounding Argus pheasant: stable.

Case No. 42 – Case of assorted exotic birds: stable.

Case No. 58 - Lorikeet case: stable.

Case No. 64 – Dome of long-tailed skua: stable.

Case No. 37 – Golden pheasant and label: faded but stable.

Case No. 36 – Case of assorted exotic birds: stable.

Case No. 82 - Dome of hybrid duck and label: stable.

Case No. 74 – Dome of Bird of Paradise and label: old pest depredations, now stable.

Case No. 79 – Sea Eagle: stable.

Case No. 48 – Badger family with label: stable.

Condition report, upper gallery

Temperature: 10°C, Relative Humidity: 51.7% (House tag on top of case, gave a reading of 45% and 11°C).

Case No. 23 – Assorted birds: stable.

Case No. 30 – Wild Turkeys: stable, jar of exhausted silica gel in case.

Case No. 31 – Bustards: waxy (fatty) deposits in feet, legs and beaks, especially of Great Bustards ??, else stable.

Case No. 20 – Ruffs, waterfowl, waders: very faded, else stable.

Case No. 21- Raptors and fallow deer faun prey: stable.

Case No. 22 – Exotic birds: stable.

Case No. 23 – Assorted birds: old fumigator still inside case, specimens stable.

Case No. 24 – Toucan, cock o'the rock &c: stable, jar of exhausted silica gel in case.

Case No. 25 – Assorted birds, including ?Anhinga (Snake Bird) with old pest depredation marks to neck [see photo.], old grazing also to left knee of heron; case trembles.

Case No. 26 – Assorted birds: stable.

Case No. 27 – Assorted mammals: Anthrenus larval skin on left cheek of fox and ventral fur of hare, also on albino mole – no signs of present activity.

Case No. 28 – Sea Otter, Duck-billed platypus and other mammals: good for age and presently stable.

Case No. 29 – Water Fowl: stable.

Case No. 2 – Seabirds: stable except for flying Petrel which has old mould on feet. This can be removed by swabbing with alcohol (IMS).

Case No. 3 – Raptors: glass interior surface with hyphal threads of mildew (shown up in torch beam). The only way to remove this effectively is to remove the glass and clean it using IMS, and then polish with a clean cloth.

Case No. 4 – Raptors: glass interior surface with hyphal threads of mildew (shown up in torch beam). The only way to remove this effectively is to remove the glass and clean it using IMS, and then polish with a clean cloth.

Case No. 5 – Raptors: glass interior surface with hyphal threads of mildew (shown up in torch beam). The only way to remove this effectively is to remove the glass and clean it using IMS, and then polish with a clean cloth.

Case No. 6 – Assorted birds: one Reed warbler's tail loose, else stable.

Case No. 7- Owls: slight mildewing of glass internally, specimens faded but stable.

Case No. 8 – Gallinules: two tears to backing paper (left side), slight mildewing of glass internally, specimens stable.

Case No. 9 – Corvids: slight mildewing of glass internally, specimens stable.

Case No. 10 – Pheasants: slight mildewing of glass internally, slight (old) mildewing to some wattles, else stable.

Case No. 11 – Assorted birds, including Passenger Pigeon: slight mildewing of glass internally, else stable.

Case No. 12 – Bitterns and other birds: slight mildewing of glass internally, wing armature of cf. Egret protruding and legs wires of central Bittern are rusting and staining the skin brown.

Case No. 13 – Ducks and Divers: some dull eyes probably due to slight mildewing of glass internally, all else stable.

Case No. 14 – Waterfowl: mildew to wattles of both moorhens, slight mildewing of glass internally, tear to backing paper (right side).

Case No. 15 – Seabirds: slight mildewing of glass internally, else stable.

Case No. 16 – Seabirds: slight mildewing of glass internally, cracks to groundwork (rocks) and tears to backing paper (both sides).

Case No. 17 – Seabirds: slight mildewing of glass internally, else stable.

Case No. 18 – Albatrosses and other sea birds: cracking to groundwork (rocks), very slight mildewing of glass internally, else stable.

Case No. 19 – Ducks: stretch tears to backing paper (left), else stable.

Saloon

Dome.1 – Riflebird with beetle prey: stable.

Tall dome (number?) – Pair of Quetzals: ? 's crest has an Anthrenus larval skin; ? shows some slight plumage disruption to breast area. Damage may appear to be slight but grazed areas of skin may cause future feather drop, therefore handle these with great care and avoid shocks.

Great Hall

Temperature: 10°C, Relative Humidity: 55.2%

Vitrine 1 of shells, corals, geology: splits and tears to backing papers plus (old) damp staining of same, all else stable. Large strombid and cassid shells above case were tissue wrapped and appeared to be stable.

Case No. 88 – juvenile Gharial: stable.

Snake Dome – specimen stable. The card strips appear to represent the snake spitting venom (cf. Haemachaetes sp.).

Vitrine 2 (surrounded by taxidermy cases) of minerals, corals, chelonian shells, sea shells, fossils and a seed head: stable.

Case No. 34 – Macaw and cockatoo: faded but stable.

Case No. 54 – Eagle and rabbit prey: faded but stable.

Case No. 84 – Pair of Sand Grouse: stable.

Case No. 87 – Leaping Hare: stable.

Case No. 51 – Pair of Golden Pheasants: faded but stable.

Case No. 53 – Pair of albino Pheasants: faded but stable.

Case No. 49 – Pair of albino ornamental pheasants: faded but stable.

Case number? - Badger: very faded but stable.

Entrance Hall

Eland Horn trophy: slightly dry.

Fallow deer head 1: minor skin abrasions, tissue wrapped.

Fallow deer head 2: appeared to be stable, tissue wrapped.

Great Kudu horn trophy: stable but with some ingrained dust soil.

Water Buffalo skull: soiled with ingrained dust but stable.

African Buffalo horn trophy (above archway to galleries): stable.

Remedies:

The only way to remove glass mildew effectively is to remove the glass and clean it using IMS on a cloth until no smears remain, and then polish with a clean cloth.

Most of the larger cases in the two galleries should be tongue-and-groove fitted along the bottom edge; the tops are held in by recessed screws. Note that I have not actually tried this but this is the way that they appear to be attached.

Once these cases have been opened, it would be useful to place discreetly but open to the light, a piece of fading strip to monitor further fading (available from Preservation Equipment Ltd in Diss).

Dirty skulls can be washed in warm water and some conservation grade surfactant. Leave to dry and then lightly dress horns with neatsfoot oil (available from riding shops). The latter treatment can obviously be applied to other horn trophies if these show signs of dryness or start to crack or delaminate. Massage the oil well into the horns and remove any surplus the next day. Beware of using kitchen towels or fibrous cloths since they will leave fibres on the horns.




For more details about what we can do for you, or for a quote, please contact:
enquiries@natural-history-conservation.com
We are members of the United Kingdom Institute for Conservation of Historic and Artistic Works