Natural-History-Conservation.com
Conservation by Simon Moore of an old Snow Leopard rug.
Condition: This old skin of a Snow Leopard had been used as a rug and was in a very poor condition (see three images below). It had several large holes, some areas of fur were missing, the tail was missing and the fur was matted in several places. The head was preserved as a 'flat' mount with eyes and ears but this had become flattened in line with the skin. The brown silky material it was lined with had rotted away in many places. It had been interlined with black wool batting and cotton-based material but some of the black wool was missing.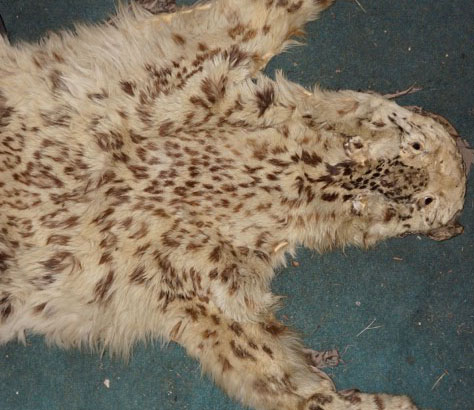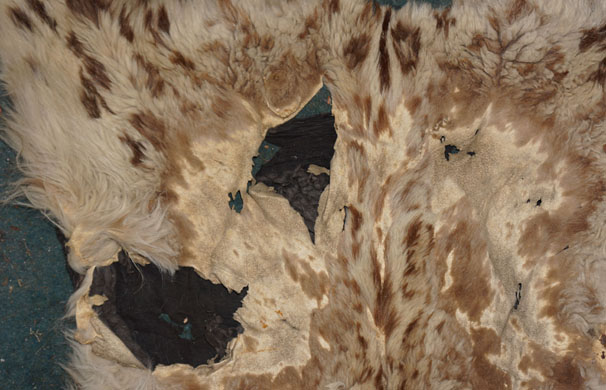 Treatment: The brown silky lining material was removed (the label was kept) and replaced with blue baize backing. Skin tears and areas around holes werer repaired with neutral pH conservation PVA and Gampi Japanese 8 gsm tissue to prevent further tearing (below left). Larger holes and paw tears were backed with chamois leather (below middle) glued into place with neutral pH conservation grade PVA adhesive (used throughout), then flaps of skin were adhered in the same way. The skin and fur was cleaned using Vanish upholstery foam (not much dirt noted), then wiped down with Industrial Methylated Spirit to remove deposits left by the cleaning foam. The skin was then brushed and dried. The eyelids and ear pinnae were treated with Bollmann Ultra Soft compound to remove some of the stiffness. Fur was restored to bald patches of skin using hair from the brushing process, to produce a soft sub-fur layer and then some of the longer hair was similarly applied with adhesive to restore the outer fur layer (below right).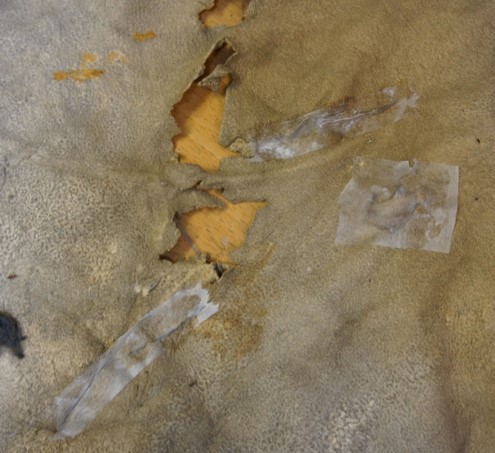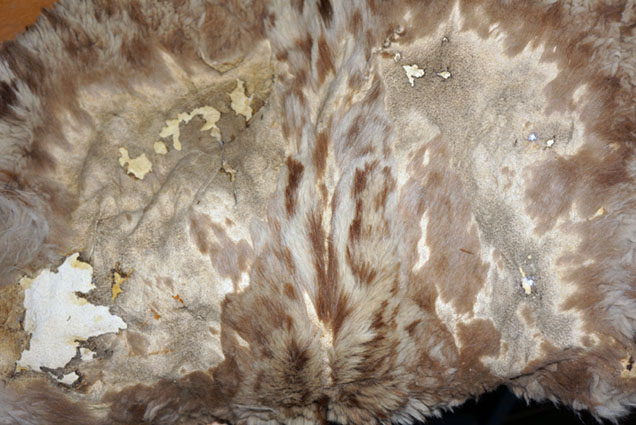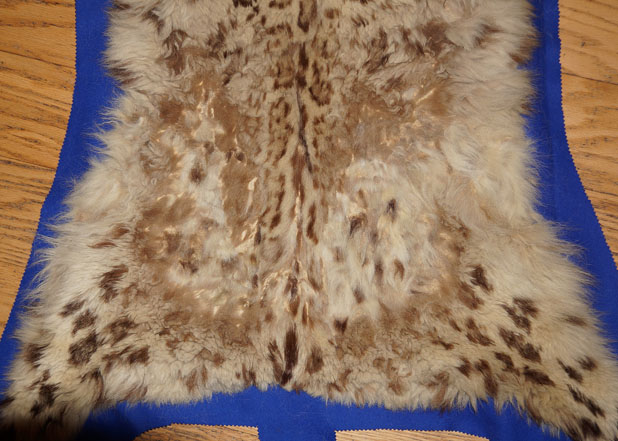 The skin was interlined with polyester batting and this was attached by sewing to the existing black batting and black lining material. The furrier's label was re-sewn into the skin backing. The blue baize was marked with chalk around the skin and cut out using pinking shears. The skin was then gradually hand-stitched to backing and finally brushed and rolled ready for packing.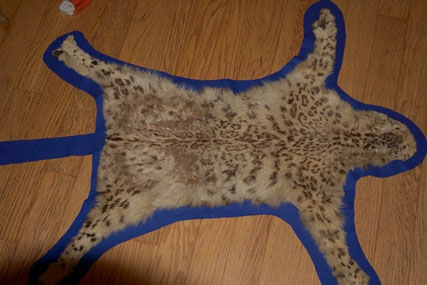 For more details about what we can do for you, or for a quote, please contact:
enquiries@natural-history-conservation.com
We are members of the United Kingdom Institute for Conservation of Historic and Artistic Works