Natural-History-Conservation.com
The conservation of silk moths in cases for The Nicholson Museum and Art Gallery, Stafordshire
The Nicholson Museum and Art Gallery, Leek (Staffordshire Moorlands) has recently had 7 cases of the various species of silk moth life histories conserved by Simon Moore. These cases form part of the industrial heritage of Leek and were presented to the Museum by Sir Thomas Wardle (1831-1909) who was a local textile dyer and printer and had leading knowledge in the production of wild silk. He used this knowledge to print onto Tusser silk and attracted the patronage of William Morris.

The cases were in reasonable condition considering their age, and although the pale colours of the moths had faded to a dull cream, their physical condition was quite good. A few had suffered physical damage over the years and required subtle repairs to keep them intact. One moth had become detached and required re-building using fine Japanese tissue strips.

The juvenile and metamorphic stages of the moth were preserved in alcohol and naphthalene mix. Of these, some had dried out and many others were contaminated. These were rehydrated and re-preserved in alcohol with some glycerine added as a humectant (to prevent them drying out totally in the future). The jars, formerly sealed with liquid paraffin wax, were carefully sealed using a silicone sealant that should keep them sealed indefinitely but which should be easier to reverse than the former wax seals.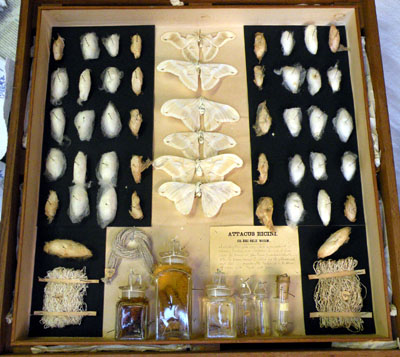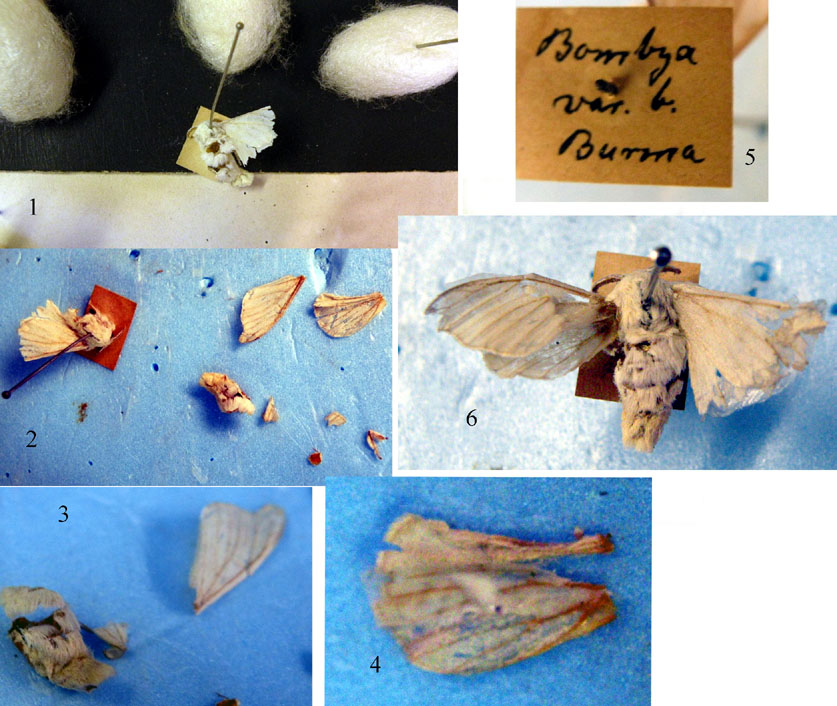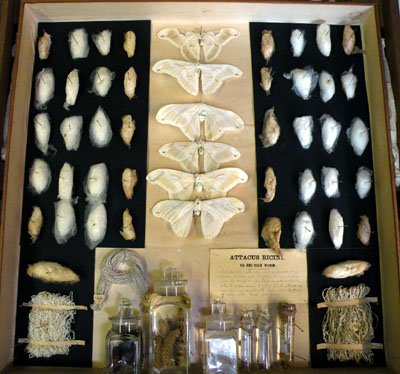 Attacus ricini case: before, during and after treatment.

(Courtesy of Staffordshire Moorlands District Council)
For more details about what we can do for you, or for a quote, please contact:
enquiries@natural-history-conservation.com
We are members of the United Kingdom Institute for Conservation of Historic and Artistic Works