Natural-History-Conservation.com
Undertaking the conservation of specimens in Beatrix Potter's Natural History cabinet at Wray Castle in the Lake District.
Wray Castle overlooks Lake Windermere in the Lake District and is a property newly-acquired by the National Trust. They have on display on long-term loan from the Beatrix Potter Society (www.beatrixpottersociety.org.uk). Beatrix's natural history cabinet that is figured in one of Beatrix's drawings of her earlier life in London. The National Trust is organising the conservation work described below on behalf of the Beatrix Potter Society. The cabinet comprises 16 drawers of Natural History material - mainly dried insects such as butterflies and moths but also many other insect groups as well. The lower drawers contain bird eggs, mollusc shells, some dried plant material, minerals and a few fossils, as well as a few curiosities like a small cannon ball and a metal detonator cap from a German weapon shell (c. 1910). Although it contains largely dried insects, the cabinet was not specifically designed to keep out insect pests. In consequence, the insect drawers have been invaded by two species of carpet beetles and a clothes moth, resulting in damage that is thankfully largely treatable. To this end Simon Moore has been working to repair as much of the damage as possible and to make the specimens resemble what they once were as an amateur entomological collection. Evidence points to Beatrix's use of these specimens, as many insects that are shown in her story books show a great accuracy. The damaged insects were repaired using very fine Gampi Japanese tissue, varying dilutions of neutral pH PVA adhesive and a great deal of eye-strain, steady hands and patience! Three days were devoted to the repair of the specimens in the drawer of Odonata alone (containing dragonflies and damselflies) as many of these had been severely damaged and many body parts were lodged under the lining paper for the drawer.

Below: Before (left) and after (right) photographs of the Dragonfly drawer. A brown human hair was also found in this drawer that might conceivably have belonged to Miss Potter and has been kept in the piece of folded blue paper at bottom right.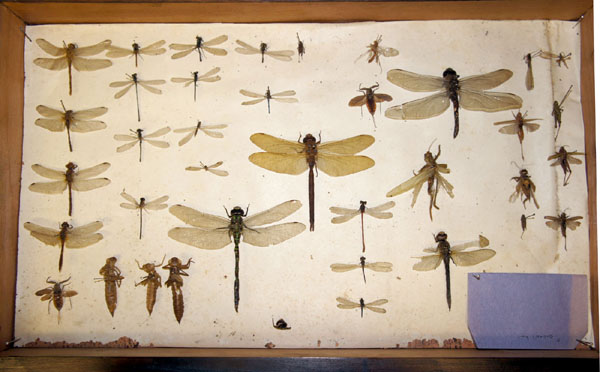 Below: Visitors to Wray Castle were encouraged to watch as Simon gradually re-constructed other butterflies and moths from heaps of wings and appendages - including reconstructing a micro-moth from a heap of fragments (shown in the last two images immediately below).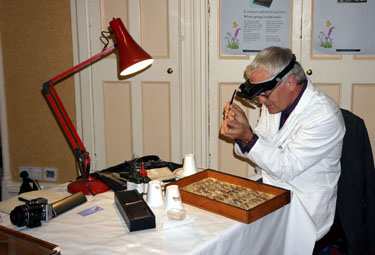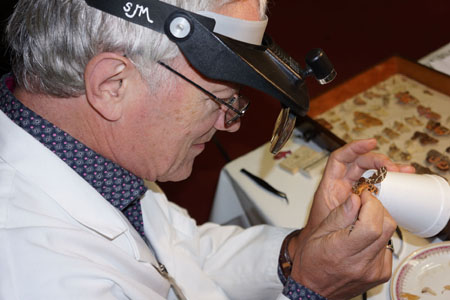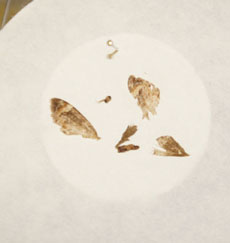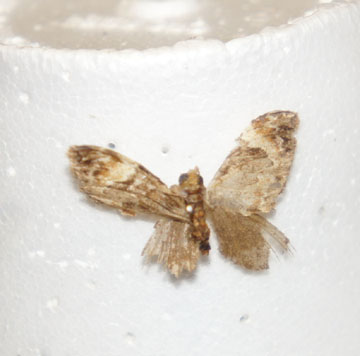 Although the work was slow and painstaking, Simon managed to keep up the pace so that each of the remaining three drawers was completed during the three day sojourn. Visitors' questions were deftly fielded by Kate (below left) who works at Hill Top, Beatrix Potter's former home so that Simon could work relatively undisturbed. Kate was also undertaking the daunting task of identifying the insects as none had any labelling. Future research will undoubtedly reveal where some of these were originally captured back in the 1880s when Beatrix was in her teens. Kate even managed to supply a small bottle of vodka so that a Silver-washed Fritillary's antenna could be cleaned of an invading (but old) mildew (below middle). Below right: Repairing the upper right wing of a small brown moth using 8 gsm Japanese Gampi tissue. By the end of the final day, the insects had all been repaired and Simon could journey back home with only a mild touch of eye-strain!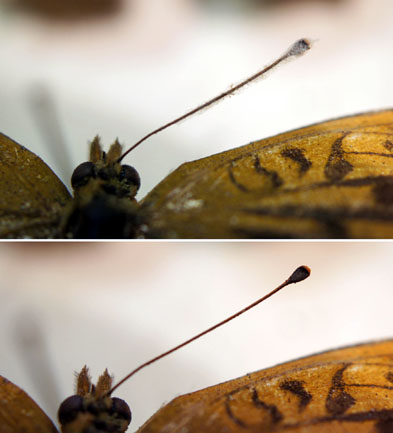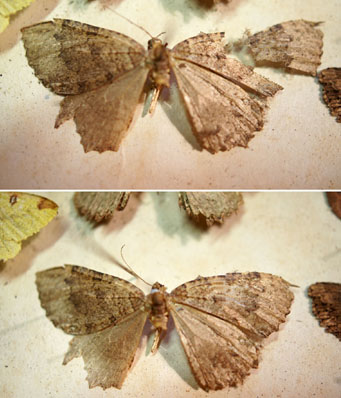 Below: on the left a drawer of butterflies before conservation, and on the right the same drawer after conservation: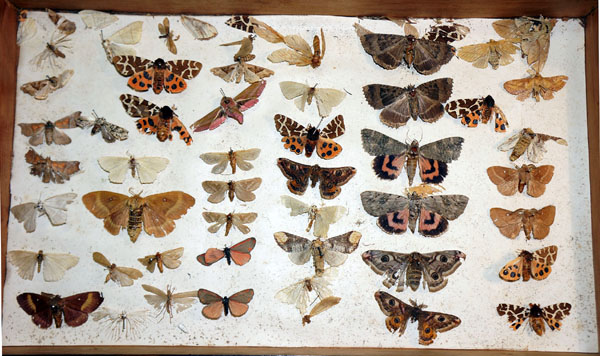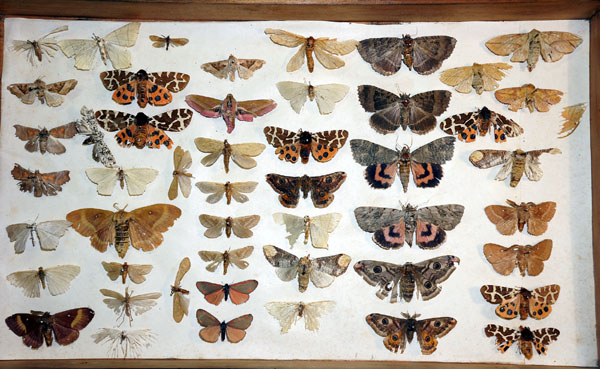 Below: on the left another drawer of butterflies before conservation, and on the right the same drawer after conservation:



Below: an article about this project that appeared in the 'Journal and Newsletter of The Beatrix Potter Society':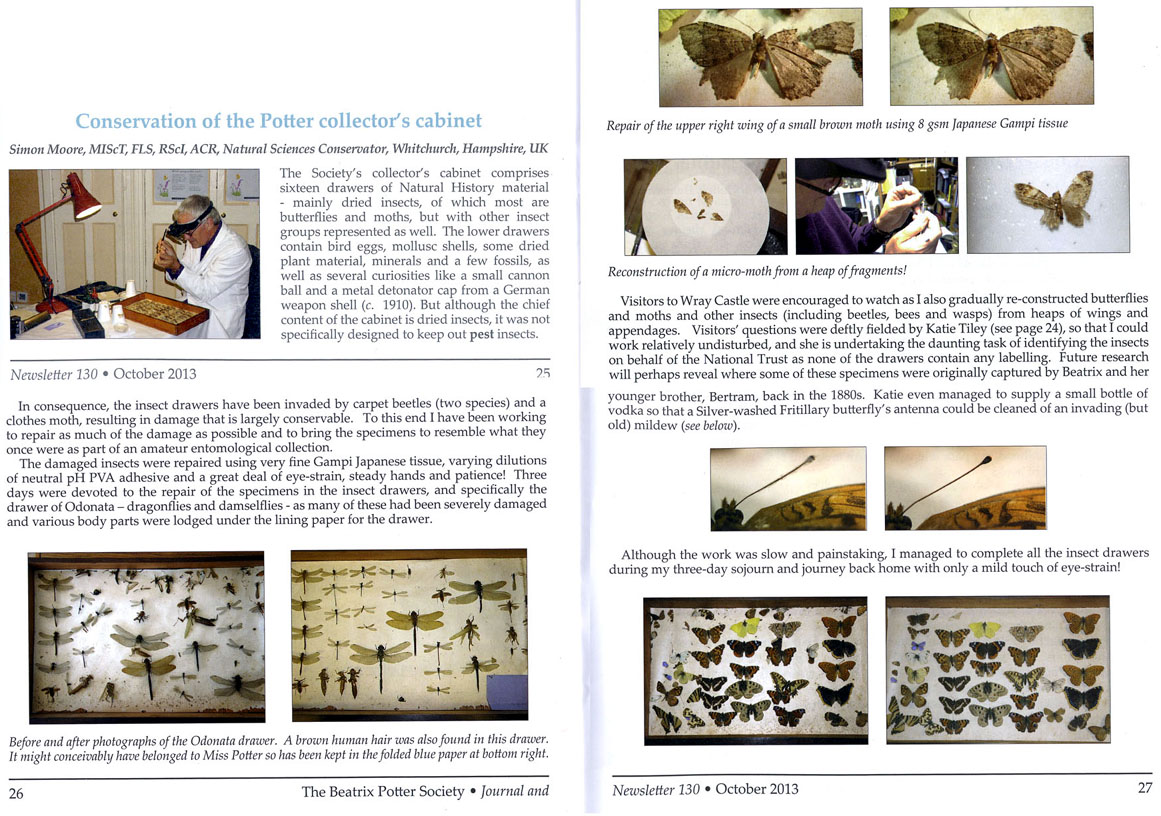 For more details about what we can do for you, or for a quote, please contact:
enquiries@natural-history-conservation.com
We are members of the United Kingdom Institute for Conservation of Historic and Artistic Works